November fun at Slots Capital
Thanksgiving slots games for adults? We get you! We collected for you the best Thanksgiving weekend games, real money bonuses, and free spins!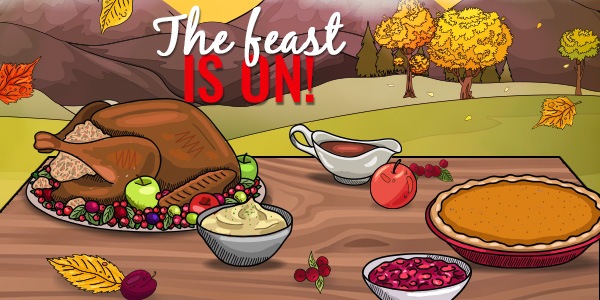 Hop on the Mayflower game and help to catch the Turkeys! The best Thanksgiving Adult Entertainment out there!
Join the feats! Back in 1621 Pilgrims arrived with the ship called Mayflower. A year later they celebrated together with the first abundant harvest with a feast together with the Native Americans. Will you help to catch the turkeys? Hint, the more you can catch, the bigger your bonus will be! Play now!
Thanksgiving Slots
Enjoy the best Thanksgiving Adult Entertainment  Slots at Slots Capital. Time to experience our fall slots! Thanksgiving, which occurs on the fourth Thursday in November is a huge reason to visit our Casino. We are treating our players with real cash bonuses, big deposit bonuses and free spins. Let´s have a look first on the most popular Thanksgiving Slot games!
Thanksgiving Bonuses and Thanksgiving Slots
Just as always, we honor our adult players with a big deposit bonus to make the most out of the month right at the beginning. Our adult players can have fun with our bonus ADORENOV, a 300% bonus! The minimum deposit is $35 and no max cash out is applied! Time to enjoy the Thanksgiving Slots with this bonus!
Fancy some real money bonus?
Get 50 Free Spins on Windy farm, redeem bonus: FEAST
You only need to make at least one deposit in November 2019 to enjoy the FEAST on Thanksgiving day, with a delicious 50 free spins! You can enjoy the spins on Windy Farm! This slow game is a 50-line, 5-Reel Slot. You're not going to be surprised to learn with a title like Windy Farm that this game is based on a rather windy looking farm. It's so windy that it's all blown up, including some pretty big victories. Wise credentials, 50 lines of action are spread across 5 reels in this game. Check at the weather vanes to see how the wind and the wild grow.  A Great Thanksgiving Adult Entertainment! Watch as the wind scatters the Chickens across the farm. The Goats run and play as the Horse saunters by. Slop the Pigs and watch out for the Bull! Grab the Watering can and Wheelbarrow, check the Mailbox, and clutch the lucky Horseshoe. Other Windy Farm icons include the 10, Jack, Queen, King, and Ace.
Oh and the Chicken icon is a Directionally Expanding Wild! If the weather is windy the Wild expands upward, if the weather is calm the Wild expands downward!
Black Friday is always about going a bit crazy, therefore there you go, we are giving away 20 Free Spins on our "blackest" game Jumping Jaguar! No need to do anything for this bonus, just visit us on Black Friday and you will be rewarded with 20 Free Spins! The bonus is having a max cash out, in the amount of $180. And we do not stop here! We continue the madness on Cyber Monday with another bonus! This slot machine, Jumping Jaguar is a 30-line, 5-Reel Slot.
Deep within the rainforest the Jaguar is ready to strike in Jumping Jaguar, Rival's latest 5 reel slot. As the large cat prowls the jungle floor, the other animals take notice. Frogs and Lizards take cover while the Snakes slither away. In the trees the Tamarin chatters as the Sloth slowly shuffles along. The Macaw, Toucan, and Eagle fly to the treetops. Leaf Cutter Ants scurry along past the various Fruits and Flowers native to the area.
The Jumping Jaguar is an Expanding Wild!
Three or more Golden Jaguar Idol icons triggers the Free Spin Round! During free spin play, three or more Silver Jaguar Icons triggers The Hunt Super Round. During the Hunt, all icons in play become Drop Icons!
Cyber Monday Free Spins for the best Thanksgiving Adult Entertainment
A true fun game for adults for Thanksgiving! For Cyber Monday, between 2-6th of December 2019, you will be able to get 100 Spins on Mighty Aphrodite! This slot machine is a 25-line, 5-Reel Slot.
The Goddess of Love comes to life in this 5 reel tale of passion and prizes. In Mighty Aphrodite, Rival's latest 25 line slot, the Goddess Aphrodite, Cupid, and Pegasus will join you in your quest for love and winnings. Divine icons include ripened olives, a seashell, a precious heart, a golden harp, a clay pot, a wreath and medallion, the temple of love, and a golden coin. Pink and gold 9, 10, J, Q, K, and A icons glimmer and shine among the heavenly reels.
Aphrodite is a Stacked Wild! The Stacked Wild icon will take up the place of two vertically stacked icons! Three or more Pegasus icons triggers the Free Spin Round!
Watch out for Cupid! When he appears onscreen he will shoot an arrow and reveal your Multiplier!
What do you need to do for the free spins for this Thanksgiving Adult Entertainment?
It costs only a $35 deposit, and you will be gifted right away with 100 spins on the game! No max cash out, the sky is the limit!
Cream of the Crop Slot Machine
Rival Gaming´s Cream of the Crop, a 20-line, 5-Reel Slot.
Another cute example of Thanksgiving Slots. Vegetables and cash are popping out of the ground in this garden-themed slot, Cream Of The Crop! Tend to your crop, pull the weeds, and search for the treasure chest to activate the bonus round. Your garden includes onions, carrots, radishes, turnips, corn, cabbage, peppers, and pumpkins. The rabbit is wild!
During the bonus round, click on the wooden signs to reveal your prize! Vegetables earn free spins and treasure chests earn coins. Finding the weed ends the bonus round.
Like many Rival Gaming slots for adults, there are plenty of enjoyable elements in this game that will keep you involved in every turn and keep you coming back for more –and the rewards are good. You can also play this slot on a variety of platforms, while the game is easy to stake and offers spin-stakes that match everyone from players with small stakes to players with medium stakes.
Gobblers Gold
Rival Gaming´s Gobblers Gold, a 20-line, 5-Reel Slot. What a great Thanksgiving Adult Entertainment!
Who doesn't love a bit of turkey and all those wonderful Thanksgiving trimmings that go with it – and now you can help all of them, including the little fortune you will earn to buy them in Gobblers Gold! Will you try out this classic Thanksgiving Slots game?
An exciting 20-Line, 10-coin video slot game for adults, complete with free spins, multipliers, wild turkey and a bonus round that is sure to delight!
Pub Crawlers
Rival gaming´s Pub Crawlers, a 20-line, 5-Reel Slot.
Run the fun slot machine for Rival's Pub Crawlers and enjoy the benefits it provides. This free slot is all about animals crawling that look extremely adorable.
Hard day at the hive? Scuttle on over and check out Pub Crawlers, where hanging on the Web has a whole new meaning. This Slot is centered on a traditional British Pub, with one small exception. This particular pub is filled with creepy crawly bugs of all sorts, spiders, and other slithering, squirming, and soaring insects sucking back the suds. All you need to do is push the Spin button and wait until you see the winning combination. You win when within 20 active paylines at least one winning combination emerges, what amount you can change to make playing more difficult. 
Some of the regular clientele include a Bar Fly, a sophisticated Grasshopper, a cigar sucking Beetle, a Caterpillar drinking wine, a couple of Ants, a blood sucking Mosquito, a slick Wasp, a Tarantula playing poker, and a drunken Cockroach hooligan. Also featured are the friendly staff, a Butterfly bartender, a Ladybug waitress, and a vigilant Scorpion bouncer ready to swat any pests that are bugging out too much. Try your luck at the Darts Bonus Round, one of the most favoured Pub pastimes. Take aim at the custom Spider-Web board and score some bonus coins. Its a true Thanksgiving Adult Entertainment!
Chicken Little
Rival Gaming´s Chicken Little, a 1-line, 3-Reel Slot.
For the adults! The sky is falling! The sky is falling! Join Chicken Little, Henny Penny, and Ducky Lucky on their perilous pursuit to save the the world from....an acorn! Poor Chicken Little got bonked on the head while under an oak tree and is now spreading mass hysteria to his cautious companions. In addition to Chicken Little and his friends, this classic 3-Reel slot also features Bar symbols. Don't chicken out, try Chicken Little! When we are talking about Turkeys, why not about other birds? Have fun with this Thanksgiving Slots game!
Fantastic Fruit
Rival Gaming´s Fantastic Fruit, a 1-line, 3-Reel Slot.
When someone suggests having my 5-a-day, I usually think which 5 slot games I'm going to play every day instead of that 5 fruits I'm going to eat – but sometimes in the slot universe, you get the opportunity to pinch both of those melons at the same time. And that's exactly the case with the Fantastic Fruit of Rival Gaming, a quick 3 reel 1 pay-line slot targeted at slot players who love playing but don't like having to think too much about what they're doing.
Fantastic Fruit is a classic 3-Reel slot for adults that is straightforward and simple enough for anyone to pick up and play.
Secret Garden
Rival gaming´s Secret Garden, a 20-line, 5-Reel Slot. a fun Thanksgiving Adult Entertainment!
Based on the famous book "The Secret Garden" by Frances Hodgson Burnett, Rival is bringing you a beautiful cute game.  An exciting 20-Line 5-Reel Slot game with the all new Bonus Round and Free Spins game-play. Play the free online casino slot Secret Garden developed by Rival and immerse yourself with numerous wonders in the magic world. The slot theme recalls the famous fairytale's wonderland. Besides this, music and various apps are extremely enjoyable, which will not let the adults get bored.
30, 40, or 50 Free Spins (depending on the number of triggering icons hit) with 2x multiplier. All you need to do is push the Play button and win money on opposite reels thanks to winning combos. The rules are as easy as that. Both winners are paid on the paytable from left to right. There are 20 active paylines, but to make playing more difficult, you can change their number. You can also describe the maximum bet by choosing the amount and price of the coins. What's more, you can try Max Bet button and make a fortune if you like danger.
Secret Garden bonus round - explore the secret garden and earn coins!
Time to start to play!