Let The Thanksgiving Celebration Begin!
We may not have a Thanksgiving meal or a parade, but we have the best Thanksgiving slots and promotions you are looking for.
November is here, and with it, a few special days you should mark your calendar for. We are very thankful for our great community and invite you to celebrate Thanksgiving with us! 
What is Thanksgiving?
In the United States, Thanksgiving is celebrated as a way of thanking god for the blessing of harvest during the last year. This tradition goes back for hundreds of years and, just like in its beginnings, it is still an important day for all. The why and how important it is to the individuum depends on their priorities. Some are thankful for the well-deserved holiday, while others are thankful to see their families and to spend time with them.
Thanksgiving is a day to be thankful for all that you have. It's the perfect time of year when families get together, enjoy each other company and make memories worth remembering! Sometimes that is the only opportunity in a year. Some people prefer Thanksgiving over Christmas because there is less emphasis on consumerism, but to be honest, most enjoy both holidays just as much! Thanksgiving, for most, is also a start of a four-day weekend which many people look forward to.
Sitting between the monsters of Halloween and Santa with his Christmas elves, Thanksgiving has had to squeeze between both holidays in recent years. With Thanksgiving, the official holiday season starts. At Slots Capital Casino our members can harvest high quantities of money with our holiday slots, especially the Thanksgiving slot games!
When is Thanksgiving Day?
Since the Thanksgiving holiday is held on the fourth Thursday in November, in 2023, Thanksgiving falls on the 23rd of November. In general, you can say that Thanksgiving annually is between the 22nd and 28th.
Thanksgiving was observed on various dates throughout history, and at the time, it could change from state to state. In 1863, President Abraham Lincoln proclaimed a national Thanksgiving on the final Thursday in November.
A couple of years later, in 1939, Franklin D. Roosevelt attempted to push the celebratory feast to the second-to-last Thursday in November to stimulate the economy by extending the shopping time before Christmas. This, obviously, caused a lot of confusion. In 1941, Congress, as a compromise, set the holiday on the fourth Thursday in November.
History of Thanksgiving
The holiday has been celebrated around the country since the 1620s. Still, its tradition is traced to a 1619 event in Virginia, where 38 English settlers vowed to bring to the new world a yearly holiday of Thanksgiving to God for their blessings.
Another event that marked the beginning of Thanksgiving was the Plymouth feast in 1621. There, English pilgrims who emigrated from England got together with native Americans as a way to thank them for helping them pass the last winter with food in times of scarcity.
To go back to the Thanksgiving origins and get in the mood for the celebrations, we at Slots Capital offer our members free thanksgiving slots with extra bonuses and increased prizes! Get ready to feast like a king by winning this Thanksgiving at our holiday slots!
Similar Festivals Around the World
Similar festivities to Thanksgiving occur around the world with different dates. For example; The Canadian Thanksgiving celebration takes place on the second Monday of October to give thanks to the almighty god, as it is closer to the harvest season. In the Australian territory of Norfolk Island, they celebrate it on the last Wednesday of November.
Germany and Japan also have similar celebrations, while the United Kingdom celebrates the Harvest Festival, held on the Sunday of the harvest moon that closes the autumn equinox.
In India, Sri Lanka and Malaysia, Thai Pongal is celebrated in a similar fashion to Thanksgiving. This four-day festival is held between January 14 and 16, where people thank the Sun God for a successful harvest.
Thanksgiving Traditions and Activities
As for every holiday, there are certain activities you can spend your precious time with. There are a few things that probably will never change on the day of Thanksgiving.
Preparing the Food
On Thanksgiving day, families and friends gather together to spend time together. What would be better than prepping the food together? There's nothing better than contributing towards dinner, being thankful for the time, and enjoying the delicious food afterward.
Attending the Macy's Thanksgiving Day Parade
Manhattan - New York is where the most prominent party takes place, since the 1920s! If you want to combine the start of the holidays with something spectacular, why not attend the Macy's parade in New York? The colorful parade with many balloons in the shape of well-known characters or harvest items, music, and marching bands is the perfect beginning for the holidays.
Macy's parade can also be watched on TV. There is a live broadcast from the event, and you can watch it worldwide! Who isn't up to seeing his favorite cartoon characters as big, giant balloons in the sky and feeling the magic the parade spreads?
Ready for a Little Race?
Besides stuffing a turkey at traditional family gatherings, other popular activities during Thanksgiving include nationwide turkey trots. Thousands of people from different cities in the country race long distances and are sometimes dressed up as Turkeys.
Harvest Your Winnings!
For us, the Thanksgiving celebrations include playing holiday slot games. Many online casino sites usually offer their members extra bonuses to play with so they can win increased prizes and enjoy the holiday even more! So do we at Slots Capital. We've prepared plenty of slot promotions that match the holiday flair. Trigger scatter symbols, Jackpot combinations and find Thanksgiving Turkeys along the reels!
We highly recommend visiting Jane's farm from Arrow's Edge to harvest supper ingredients, like eggs, milk, and so on. In the 3 x 5 slot field, free spins and bonus rounds await you! With its two jackpots, the slot game may pay big. It's just as big to cover your Black Friday shopping tour!
With Slot titles like "Chase the Turkey" and many more, your Thanksgiving celebration for sure is going to be fantastic and exquisite! 
The Thanksgiving slots are waiting for you! So, what are you waiting for?
What's For Dinner?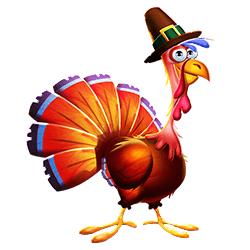 Simple answer: turkey. Throughout the years, turkeys have become an icon of Thanksgiving (make sure to look for it in our Thankswinning slot game!). Till the present day, it is not yet 100% sure if turkey was served on the first Thanksgiving or not. Many sources confirmed that the Thanksgiving story included "wild fowl," which could mean everything like duck, goose and pigeons.
However, the wild turkey is a native American animal (North American, to be more precise), meaning they were a plentiful source, so it would make sense as to why we think it was served since the beginning, right?
While other poultry like were also prominent in the land, the turkey got the Thanksgiving crown at the end of the day and kept being the essential item on the table. Around 88% of Americans will eat turkey on Thanksgiving day.
Another theory is that the migration from New England caused the influence of having turkey and many other delicious items on the table on Thanksgiving day. So, for example, pumpkin and cranberry sauce. Pumpkin pie is another common dish these days that should not be missed on the table.
Rooting back to the original Thanksgiving, where both squash and pumpkin were baked and moistened with animal fat or maple syrup, the dish is now served in the pie format. Side dishes like mashed potatoes and corn might have come to a couple of centuries after the tradition was first held, but they are now an American staple on dinners, not only Thanksgiving!
After Thursday, There Comes Friday!
With the day of Thanksgiving as a starting shot, the holiday season begins. With the holiday season, many would say the shopping season starts. Many people wait for discounts to do their Christmas gift shopping on Black Friday and Cyber Monday.
Black Friday
Black Friday started in America, but many other countries have jumped on the boat due to globalization and offered special Black Friday Deals. Deals barely one can resist. Lots of stores extend their Black Friday offers and start a week earlier. This means more time for the customer to buy the item.
Cyber Monday
After Black Friday, we get the weekend as a little break before our wrists get busy carrying various items out of the store. The newer generation will probably feel pain in their fingers from scrolling and ordering online. On Cyber Monday, all electronic devices are usually sold with a tech deal. On Amazon, you can even queue virtually to get the offer advertised.
With the increased interest in Black Friday and Cyber Monday and the spectacular shop offers, people are starting to forget the real meaning of Thanksgiving. That is why at Slots Capital we want to offer our members some Thanksgiving slot games and bonuses to celebrate this holiday the way it deserves!
Begin your rich tradition with playing the adult slots of Thanksgiving in our Casino, generate glorious winning combos and memories. Enjoy the prizes, you may use the money for Christmas shopping or fund the costs of the Thanksgiving week.
Ready for the NFL Football Games?
Besides enjoying the Thanksgiving turkey, another popular tradition this day is watching the annual NFL Thanksgiving matches. Since 1920 the NFL has played games on Thanksgiving day.
All good things come in three, it is said. Maybe that's why a third prime-time game has been played since 2006. Meaning in 2022, there will be an NFL Thanksgiving tripleheader! The matches are as follows:
Green Bay Packers vs. Detroit Lions at 12:30 PM ET

Washington Commanders vs. Dallas Cowboys at 4:30 PM ET

San Francisco 49ers vs. Seattle Seahawks at 8:20 PM ET
You can watch the matches on FOX, CBS, and NBC. Which team are you rooting for? If you watch the matches with your friends or with your family, we are sure it will be a great feast with delicious food and fun for you!
During the breaks of the matches, there is enough time to spin the reels on your favorite Slots Capital adult slots! Who knows, maybe you will have another reason to scream excitedly.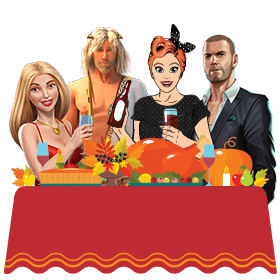 Fun Facts Around Thanksgiving Day
🍁 Benjamin Franklin wished the turkey would have been the national bird. In his opinion (according to a letter he sent his daughter), the turkey is a much more respectable bird than the bald eagle.
🍁 Sarah Joseph Hale, an Englishwoman who wrote the now-famous nursery rhyme "Mary Had A Little Lamb," was instrumental in establishing Thanksgiving as a national holiday. After sending letters for over 17 years to President Lincoln, she finally convinced him that it should be celebrated and passed legislation making this happen on October 3rd, 1863.
🍁 Not all turkeys make the "gobble, gobble" sound. Actually, it's only the males, which is why they are called gobblers. Different from the gobblers, female turkeys cackle.
🍁 The very first Thanksgiving feast lasted three days. The pilgrims seemed to went all out as the fall harvest was successful. Together with the native Americans, they enjoyed the fruits and delicious dishes made from them.
🍁 Black Friday is not a shopping day for everyone. For plumbers and septic companies, it is the busiest day of the year. Well, there is a reason why they call it "Brown Friday."
🍁 November is also used to spread awareness of men's health issues. Men grow mustaches during the month and call it Movember
🍁 Players at Slots Capital Casino can enjoy fantastic free bonus no deposit promotions as well as boosting deposit bonuses around Thanksgiving. Remember, it's not only that, it can be your Thankswinning!
Now you are one of the maybe not so many Americans who know quite a few funny yet exciting facts about the feast.
Take a seat at the Slots Capital table and enjoy the colors and the spirit of Thanksgiving. You may be thankful this year for the fantastic winnings you triggered.