Top online casino blog news! 
Hey, there and welcome to the Slots Capital Casino Blog - Lotty´s Adventures! – The insightful and enjoyable forum for all of you experienced professionals, aspiring gamblers and everyone with a strong interest in making a bet every now and then. 
We're not going to turn down tired internet travelers who got here via the search engine algorithm's mysterious ways.
Looking for the fundamentals about how to get started in playing, specific info about a game or just a collection of fun facts?
We've got you covered!
Just ensure you consistently join up for our latest news, articles, amusing reads and interesting factoids on casino-related matters.
The Slots Capital Casino "Lotty´s Adventures" contains the most up to date seasonal and occasional promotions, casino games guides, interesting articles, and casino news. 
Enjoy the adventures of Lotty and many interesting articles of the current casino promotions!
Hop on our Easter Bonus!
Details
Check out Easter at Slots Capital!
Have a Lucky Easter 2020!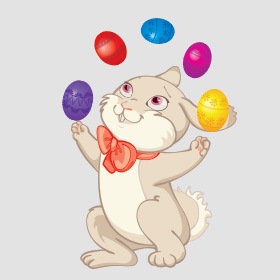 April is here, and while many welcome it by doing April Fool's pranks on each other, others pay more attention to the coming of Easter - a Christian festival celebrated by millions all over the world to commemorate the resurrection of Jesus Christ. Easter 2020 will be celebrated on Sunday April 12, and in many countries the week before contains other holidays like Maundy Thursday, Good Friday and is also part of the Holiday.
The story behind Easter starts with the New Testament of the bible, which narrates how Jesus was arrested by the Romans and was executed on the orders of Pontius Pilate to be crucified because he claimed to be the Son of God. His resurrection three days later marks the occasion of Easter.
Easter customs vary across the world, with many countries celebrating it in different ways: Some do sunrise services, exclaim the Paschal greeting and attend processions, while others decorate Easter eggs (symbols of Jesus' empty tomb), doing Egg-hunts and attend Easter parades.
Other prefer staying at home and enjoy doing an indoors egg-hunt with the family, decorating eggs or just playing Easter slot games and win cash prizes while having a good time. Try to think of other Easter Games to keep you and bring the joy of Easter 2020 to their home as well!
Why does the date change each year?
You might have noticed that last year's Easter was celebrated on April 21, and the year before on April 1 - Easter 2020 will be observed on April 12! What's the reason behind it? Well, Easter and its holidays are moveable feasts which do not fall on a fixed date in the calendar (which follows the cycle of the Sun); instead it is determined by the Jewish calendar, which is based on lunar cycles. In other words, Easter 2020 should fall the Sunday after the Passover full moon.
Easter activities
Some of the most popular Easter traditions include of course the easter bunny, decorating eggs, egg-hunting and playing different kinds of Easter games with the little ones. Nowadays child entertainers and kindergartens celebrate many versions of Easter games like egg rolling, egg tapping, egg dancing and even egg-eating competitions!
Easter in now also commercially important around the world, with Easter greeting cards, chocolate Easter bunnies and Easter eggs, as well as other Easter foods available for sale, broadening the celebration to not only Christians. Other Easter-themed entertainment like Easter slot games are also making a breakthrough on today's market.
Celebrated around the world
While in America Easter means church service, egg-hunt, decorating eggs and other Easter games, other countries around the world celebrate Easter 2020 very differently. Here are some of the most notable examples:
Latin America: Throughout Latin America, thousands of devout Catholics pay homage by attending masses and prayer meetings. Passion plays also take place in many towns across countries to reenact the Crucifixion of Christ, known as Procesiones - or processions. Some communities also participate in The Burning of Judas, where residents make an effigy of Judas, then apostle who betrayed Jesus, and burn it in central locations.
France: Children in France don't do after the Easter bunny. Instead, they get their decorated eggs from the Easter bells. There, if bells aren't rung during the Easter vigil, they return to children filled with chocolates and presents for them.
Poland: The day before Easter, families prepare a "blessing basket" filled with colored eggs, sausages, bread and other types of food. In another tradition, the Smigus Dyngus, boys try to get other girls wet with water guns (the one most soaked is said to get married during the next year!)
England: Many communities have performances of Morris dancing, a traditional type of folk dance dating back to hundreds of years, where men dress up and wear hats and bells around their ankles to drive the spirit of winter away and bring good luck to everyone.
Greece: Ever thought of throwing your tableware out the window? In the greek island of Corfu thousands of residents throw pots, pans and plates out their windows in the annoual "Pot Throwing" celebrated on the morning of Holy Saturday.

Popular foods
Beyond the colorful hard-boiled eggs, many enjoy cooking commemorative Easter recipes for their families and for themselves. Foods vary from country to country. There is a tradition for many Catholics to not eat warm-blooded animals on Good Friday. This is why millions of people eat fish instead of meat, even on the other days of Holy Week.
Other traditional Easter foods from around the world include roasted lamb (derived from the first Passover Seder of the Jewish tradition), Polish Chałka (a braided egg bread dotted with raisins), Italian Brodetto Pasquale (a pie made of eggs and lamb) and Lithuanian Paska (a dessert made of cheese).
Why are eggs so popular on Easter?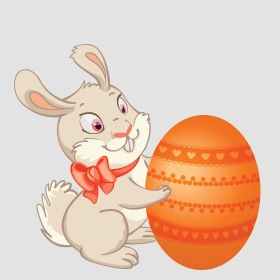 Decorating eggs has been a tradition held for thousands of years, since eggs were commonly placed in graves of the ancient Sumerians and Egyptians as early as 5,000 years ago. These traditions may have actually influenced the early Christian custom of Easter eggs. Early Christians stained eggs with red coloring to commemorate the memory of the blood of Christ shed at his crucifixion.
Today, real eggs continue to be used in central and eastern Europe and the United States, although a newer customs substitute those with chocolate eggs wrapped in colored foil and also with hand-carved wooden eggs willed with candy.
Cadbury were one of the first companies to manufacture the first chocolate eggs back in 1875, and since then the tradition became more and more popular to the point that surpassed actual chicken eggs as the official Easter eggs.
Decorated eggs are are used for egg-hunts for children. The eggs are hidden both indoors and outdoors and may vary in size. When the hunt is over, prizes are given for the largest number of eggs collected.
In other countries like Lebanon, Serbia and Ukraine, chicken eggs are still boiled and used as house decorations. In Germany, eggs are hanged in trees and bushes as well as in other public spaces like wells or fountains.
Easter eggs is also a term used for popular culture references in films, video games and literature. That's because Easter eggs are usually hidden - just like these hidden messages, characters or images are subtly referenced in media.ß
Why is the Easter Bunny so popular?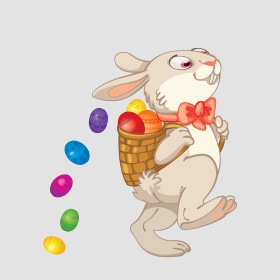 The Easter Bunny originated among German Lutherans as the one who actually brought the Easter eggs. The bunny played the role of a judge, evaluating whether children were good or bad before the Easter season - thus showing similarities to Santa Claus.
In the 16th Century, German immigrants brought the tradition of an egg-laying hare to America, where children made nests for the bunny to lay its colored eggs in. This popularized the tradition throughout the country and eventually all over the world!
Easter slots
Many people around the world also enjoy spending their time indoors playing their favorite Easter Slot Games while enjoying the holiday. Easter 2020 can be a lucky year for online slots fans at any of the Affdynasty casinos with the Easter-themed title 'Eggstravaganza'!
Welcome the coming of Spring and celebrate Easter alongside lovable Easter bunnies and other animals in Spring Meadow. Players can instantly win prizes for lining-up all of the animals in this 3-reel slot from Rival Powered, as well as get Bouncing Bunny free spins as bunnies bounce around your screen: 1 bunny rewards bettors with 5 free spins, while 2 bouncing bunnies mean 10 free spins with triple prizes! Eggstravaganza also features a pay-table displayed on the left hand side of the screen for players to use as reference.
Easter Slot Games are increasing in popularity lately around the world, and Eggstravaganza will capture the attention of thousands of Affdynasty members hungry to win big this Easter 2020. Its cartoony looks set in a rural field make players immerse themselves in a different world filled with cute animals and of course Easter bunnies.
Other Adult Easter Games
Besides having fun and winning at the slots, adults can also join in the fun this Easter 2020 in other forms. Easter eggs (probably pastic or wooden ones) are perfect for using as gifts as well! Here are some examples for you inspiration:
Wine-filled Easter Egg-Hunt: Single serving wines can be the perfect treasure hidden inside decorated Easter eggs, so adults can emulate the little ones with something slightly different inside them.
Recipe Easter Eggs: If alcohol is not your thing, fill each decorated egg with a different recipe! This is a fun way to cook a surprise meal lying inside the eggs, by randomly picking up one and finding out what you're having for dinner!
Easter egg treasure hunt: Instead of candy, try putting out a series of clues inside Easter eggs that lead to a grand prize! This is a great activity if you're trying to surprise a loved one with a gift-card, a new shirt or even a beer 6-pack
Easter Piñata: If running around looking for eggs isn't your thing, try making or buying an Easter Piñata in the shape of an egg and stuff it with adult prizes like lottery tickets, plastic bottles of booze, and (why not?) candy!
Easter 2020 may have to be celebrated mostly indoors, but that doesn't mean you can't have fun doing indoors egg-hunts and decorating eggs. In fact, it's also the perfect opportunity to have fun and also win cash prizes by playing Easter Slot Games like 'Eggstravaganza' and trying out other types of Easter Games.
Time to start to play!