Easter Egg-stravaganza at Slots Capital
Mark your calendar; Easter is just a jump away. Find your Easter basket filled with surprises!
With Easter around the corner, get ready for some Egg-stravaganza at Slots Capital Casino. What Easter is about, what Egg-stravaganza Event, what egg-cellent casino games you can play, and what eggs-clusive information you definitely shouldn't miss? We'll cover them all below!

Why are we celebrating Easter?
Easter has its origins in religion. We are celebrating the season with honoring life is changing. We take the time to appreciate what we have and had, paying tribute to those who have gone and the new life the spring season is offering us.
In Winter Season, the landscape might turn grey; trees are losing their leaves, flowers disappear. In some areas around the globe, snow is falling, putting everything under a cold white coat. Compared to the cold season, spring is bringing all the life. The bees, the birds, and animals from the hibernation are returning. Flowers are starting to bloom, making the world a colorful place again. When everything awakened after the Winter, make your bet, the glitter in your eyes is also back.
Easter is about the circle of life, with its highs and lows and we are celebrating it in the most colorful way. In the Easter week, we color eggs, prepare decorations with bunnies and chicken, and fill our storage for an egg-cellent dish to cook. At Slots Capital, we are working on egg-ceptional bonuses for the best online casino experience for your Easter Egg-stravaganza.
On Easter Sunday, we wake up early, have lots of fun with egg-citing Easter Games, and enjoy dinner with our family. Let's not forget about the Easter-themed slots that are waiting for you in your favorite online casino - Slots capital casino!
Go eggs-treme for Easter
Ash Wednesday marks the beginning of the moderating period. It is said that the time to abstain is 40 days long, however, if you have a closer look at the calendar, you will notice that it is actually slightly longer. The reason why the moderation time, in fact, is longer is that Sundays are not included in this time frame. This time is being used to prepare for the returning of life celebration - Easter. There are various reasons for people to moderate themselves, therefore, lots of different things people try to avoid during the moderation time frame. For some, it is the consumption of sweets as they want to get healthier, so they avoid it during this time.
Many people are looking forward to the Easter celebration, as it marks the end of the 40 days of not doing or eating what they have been trying to avoid. The ray of hope and sunshine after a long period, so to speak. When playing a high volatility slot, players also look forward to the winnings, especially after they have had a dry phase, right? Thus players do enjoy playing online slots on a different level of entertainment once the machine paid out. They feel the joy and the excitement of an online casino Egg-Stravaganza more intensely by then. Go eggs-treme with your Easter winnings!

When is Easter in 2022?
As you might have noticed, Easter is never on the same day. Usually, Easter occurs either in March or April, but it does not depend on the month or weather. The lunisolar calendar determines the date for Easter and its holidays. The lunisolar calendar has similarities to the Hebrew Calendar. As the name indicates, it is based on the lunar cycles and not the cycle of the Sun. As Easter is based on the moon, it is being celebrated within the first seven days after the full moon. This means that in 2022 Easter falls on April 17th.
Did you know that the earliest Easter in history was celebrated on March 22nd in 1761 and 1818? The latest Easter celebration so far was April 24th, back in 2011.
Traditional Easter Celebration
Like many things, Easter is celebrated in different ways depending on the location. The Easter customs vary from classic traditions to modern and more colorful Easter practices. Some prefer sending Easter Lilies, sending Easter Cards, or wearing an Easter Bonnet to impress the others. The modern way to celebrate is to decorate Easter eggs, do Egg-hunts, and even still love to attend Easter parades. Some things just don't change.
After almost two years of celebrating Easter in the "Stay-at-Home"-Style, we are ready to roll (the eggs). The annual Egg roll event at the White House is one of a kind, which, when you get the chance, should be attended at least once. This event is hosted by the President of the United States of America and the First Lady. In the last two years, due to the unfortunate happening of the pandemic, it couldn't take place.
Enjoy a few other nameworthy Easter traditions from around the world:
France:
In France, the church bells are silent for one or sometimes more than one day before Easter. It appears to be a sign of mourning. The Easter Tradition in France expresses this by saying that the bells flew to Rome. On Easter morning, their return from Rome, the bells are being rung. Rather than the bunny, the bells in France are said to bring all the sweets for Easter, including the colored eggs and the chocolate shaped like bunnies or eggs.
Australia:
In Australia, an engaged couple is collecting running water from a creek. They then store it until they get married. Shortly before entering the church, they dapple each other with the water as a sign of getting lucky.
England:
One of England's traditions may be on the louder side. Men dressed in white with bells around their pants dance on the streets, typically during Easter parades. Those dancers are called "Morris Dancers" and many communities have performances of Morris dancing. The dance is a traditional folk dance type dating back hundreds of years. It has its origins from times when men dressed up all the way to drive the spirit of the winter away and bring luck to everyone.
Norway:
People from Norway seem to love spending quite some time solving crimes around Easter. Who ate off the ears from the Hollow Chocolate bunny, and who cracked the egg too much? No worries, no eggs were harmed at this stage. Not real crimes, but during the so-called Påskekrim (Easter Crime), the Norwegian loves reading books or watching TV shows /movies about a crime.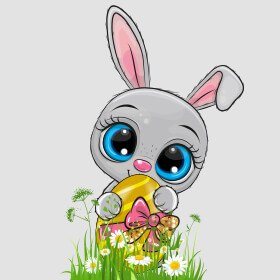 The Online Casino Egg-stravaganza
What do casino and Easter do have in common? One word: Egg-stravaganza.
While the younger generation may be hunting for Easter nests loaded with chocolate and colorful eggs, adults may be seeking winnings this Easter! Here at Slots Capital, the bunnies are already hopping and the Easter decorations are up. Of course, we do have Easter-themed online casino games in our collection that you must have tried. From classic to new, we have you covered! Play one of the blow games and trigger eggs-treme winnings.
Chicken Little
With its three reels, this casino slot game is a classic; you don't want to miss out. Different as in the fairytale with the same name, the only thing that is falling is the big win waiting for you! Henny Penny and Ducky Lucky accompany Chicken Little while covering you spinning for the big win. Be the hunter for big wins at Slots Capital and not for fairytales.
The game's wild symbol is the cute chicken little. Trigger it once and your winnings will be doubled up. Trigger it twice and you will get paid four times what you've triggered on the reel! This low volatility game certainly provides classic fun combined with a little adventure. Are you ready for it?
Queen of Hearts
We all know the story about Alice in Wonderland. Any familiar character that you would associate with Easter and its symbols? Eggs-actly; the white rabbit. Jump right into the adventurous flower garden and trigger the white Rabbit at least three times to get awarded with free spins. We bet those free spins are coming towards you just in time!
Six reels to play, all ways possible to generate winnings! Double up your winnings in a regular play with the help of Cheshire Cat as soon as she arrives on the field. Keep in mind, Cheshire Cat is expanding. Are you up for a bit of mischief? Trigger the knave icon at least three times and steal some tarts in the bonus round! Click on them to reveal the winnings they are hiding.
Bunny Bucks
Easter is full of surprises, but we can't wait to tease you here. We got a new game for our collection that you will soon be able to play. "Bunny Bucks" delivers the Easter spirit with all its elements. From the Chicken to the golden Egg, from the hollow chocolate bunny to the basket, you may find them all on this brand new five-reel slot game. Besides the classic Easter items, you may see the bunny hopping on your slots. You will be awarded free spins when the bunny hops its way on the reels at least three times in one spin. The Easter spirit is in your favor, as the free spins can be retriggered.
Trigger the Golden Easter Egg in a corner position on the reels, and it will stick there. It will be a sticky wild and will show up at other four positions on the reels and grant two free respins. The best is yet to come. This year your Easter is going to be double your Easter excitement as never before. With two progressive jackpots, the Mystery Jackpot and the Super Slots Jackpot, we are sure the bucks will be all yours once triggered.
The Egg-stravaganza
Last but not least, join the Slots Capital Casino Egg-stravaganza with the game "Eggstravaganza". This bright-colored three-reel, one-liner casino slot game is all about sweetness, cuteness, and winnings! With its cute and colorful flair, you surely will be in the mood for Easter celebrations.
The bowtie-wearing bunny is awarding you with five free spins upon appearing. If it appears twice, 10 free spins will be ready to play for you! Maximize your winnings per spin by 2500 times the coin value you have placed your bet with. Sweet and joyful winnings are just one spin away.
Another eggs-clusive Easter Meaning
Besides Easter's most popular known meaning, there is also another theory of meaning behind it. It is said that the word Easter is derived from the name of a suspected west Germanic spring goddess. Jacob Grimm has derived the name from philological comparison. Her name is Ēostre (in old German: Ostara), and she was very popular in the romantic period. It is said that she is the reason why we have Easter customs and why the world is blooming around the Easter celebration. It is also said that she has been connected to the hare, later on, the bunny, as a symbol. Also, here is seen the presence of a bunny, which may impact why we have the Easter bunny. The name of the annual celebration is an homage to her. A beautiful mythology of where the name could come from.
The Bunny and the Chicken
From one mythology being to another very famous being, which we all know about when talking about Easter. Eggs-actly, we are talking about the Easter bunny. It is bringing and hiding the surprises, as the belief is saying. The myth about the bunny is originated among German Lutherans. It is not just a cute animal but also an important symbol for the festive. The bunny is a representation of fertility, procreative power, and rebirth.
As famous as the bunny is, very popular and common is the chicken at Easter. The chicken is not randomly another symbol around Easter time. The chicken which is hatching from the egg is a symbolization of rebirth. The egg itself symbolizes the new life we are celebrating at Easter.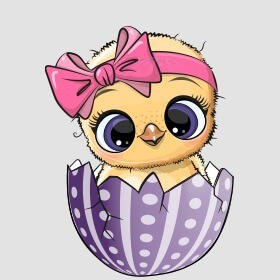 Delicious Food on Easter Sunday
Easter has so much to offer for those who are ready to taste it. As with the traditions, a typical Easter dish may vary from location. However, a few items are in close alignment and almost everywhere on the Easter Agenda.
Peeled Like an Egg...
Decorating the eggs at Easter is part of its preparation. There are many ways how to color your eggs. In the early years, the eggs were colored red to symbolize the end of a life cycle.
The most natural way would be using other food for it. For example, for the color Red or Pink, you would use beet juice, for Brown Onion peel, and for Blue blueberries. Note that for this option, you have to prepare yourself; it is not about rubbing the food against the eggshell.
An easier and not so time-consuming option would be using Food colors. There you would have to simply buy the food color and mix it then with water and vinegar. In this mixture, you would put the egg for a specific time and cool it down after, and you are done. Let us know if you are more interested in this topic in our live chat. We would be happy to create a guide on how to dye the perfect Easter egg!
In England and many of the countries in Europe, a traditional game around Easter is "Egg tapping". It contains hard-boiled eggs and two players per round. Each player is distributed an egg. Then the one player is hitting the egg of the opponent with its own egg. The player whose egg cracks first loses.
Ham-azingly Good Around the Globe
The probably most popular food to eat on Easter Sunday is Ham in all kinds of variations. If you prepare the ham in the oven or fry the ham in a pan, it doesn't matter, as long as it is ham. In many countries, the ham needs to be blessed as an Easter tradition before you can eat it. We prepared a delicious ham recipe that you can't resist. This year we suggest you try out our recipe for a Raspberry glazed ham. If you are not a fan of ham, no worries. On this page, you will also find a recipe for scalloped Zucchini.
It's All About the Sweets
As the Pinata is filled up, so are the Easter baskets filled with tasty sweets. Hollow Chocolate Bunnies and eggs just can't be missed in an Easter basket! The simple and eatable iconic Symbol of Easter comes in a colorful wrapping and isn't heavy at all. The reason why it was created to be hollow is a reasonable one. It would be impossible to enjoy the chocolate if it were a massive piece of chocolate, like the chocolate bar. It would feel as if you would bite into an old bread that has become hard as stone, if you are able to take a bite at all. Easter is there to be enjoyed with all its colors, points of pride, and peaks for you. Therefore the chocolate bunnies are hollow, and the promotion at Slots Capital Casino is bulging for you!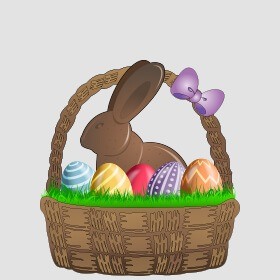 Crack the Egg and Get Surprised!
What would Easter be without a bonus surprise from Slots Lotty? Still a lot of fun, but why not get more for your money with eggs-quisite bonuses. Make yourself familiar with the latest promotions, and get ready for rolling some eggs this Easter. All good things come in three, it is said. So get ready for our Easter trio bonus including free spins, deposit bonuses, and excitement!
By redeeming the deposit bonus code WHITERABBIT, you will get double of what you have deposited back on top. In the Spirit of Easter, follow the rabbit to the game "Queen of Hearts" and get additional 20 Free spins for your deposit! As said earlier, the free spins will arrive just in time ;).
Are you up for more? Hold your basket! Get a 300% deposit bonus match with the code CHICKCHIK. There is even more you will get with this bonus code! Visit the "Chicken Little" at Slots capital online casino and find 30 Free Spins there.
Every Egg-stravaganza needs a goodie, a colorful egg in your basket, something for free, right? Redeem the code BUNNYFREE in your cashier to find 20 bright-colored free spins on the slot "Eggstravaganza" in your casino account.
Grab everything in your Slots Capital Casino Easter basket and enjoy playing at Slots Capital:
| Code | Bonus description |
| --- | --- |
| WHITERABBIT | 200% Bonus + 20 Free Spins on Queen of Hearts |
| CHICKCHIK | 300% Bonus + 30 Free Spins on Chicken Little |
| BUNNYFREE | 20 Free Spins on Eggstravaganza |
Bonuses are available between the 17th and the 30th of April. Bonus Terms as per our rules apply.
Don't worry, be hoppy and have a Happy Easter!