Unpack Your Christmas Casino Promotion at Slots Capital!
The Christmas casino promotion pack at Slots Capital is coming. Are you excited about what it brings? Come and check it out and feel the spirit of Christmas spreading at Slots Capital!
Find the best online casino bonuses under the decorated Christmas tree! Christmas is just a few nights of sleep away, and we can't wait to see the sparkles in your eyes!
Christmas Around the World
Obviously, Christmas is related to a religious happening. Depending on the calendar system, they count days and years some might celebrate it later than others. Additionally, where you are located influences also when you are celebrating.
In the States, most of us celebrate Christmas on the 25th of December. Germany, Austria, and Portugal, for example, celebrate Christmas on the 24th of December with their close ones, while people following the Gregorian calendar come together on the 7th of January to enjoy Christmas day.
If you have heard about Australians enjoying Christmas twice a year, we have to bring you back to the matter of fact. Australia is influenced by European and British heritage, meaning they usually would celebrate in colder seasons. However, December is connected to being hot and humid for Australians. But hey, who wouldn't enjoy a cold drink at the beach with friends and family instead of wearing the onion look not to freeze? Christmas in July isn't replacing the real festive. Still, it is an extra that people enjoy, although not a public holiday.
Christmas Decoration
Would you say it counts as decoration when we dress up for the ugly Christmas sweater day? Just joking ;)
However, people love to decorate their homes with various decorative items to get into the mood of Christmas. Some keep it simple and some like it big. We may keep the decorations low at Slots Capital, but our bonuses are high!

Traditions
With almost every holiday festive, there are coming certain traditions with it. For Easter, it is the Easter egg hunt, for Halloween, it's trick'o'treatening and so on, you get the point. From a kiss under the mistletoe to singing Christmas carols, there is a bunch of things we all do when the jolly season is starting.
Secret Santa
When involved in a Secret Santa round, you'd draw a name and have to get a little present for that person. Organizing gifts with a certain amount of budget. That can be a challenge for some of us, isn't it?
Psst; this year, secret Santa (probably Lotty) told us that players at Slots Capital online casino love receiving a casino bonus to spin the Christmas slots! Well, Christmas and bonus money is a good combo. We'll make sure our players receive the right goodie upfront!
Milk and Cookies for Santa
The night before Christmas Eve, we all may remember ... We put a plate full of cookies (the best ones are with chocolate bits) and a glass of milk on the table for Santa. As a kid, we placed a short note for the guy with the gifts and hoped he would like them. Years have gone by, but this was given from generation to generation.
This, let us call it, tradition started in the 1930s due to not-so-sparkly circumstances. It is said that during the great depression, parents wanted to teach their kids the importance of sharing goods. Additionally, they should be thought to be grateful for what they receive during the Christmas holidays. Hard times bring out the most creative ideas.
As we speak about sharing and showing gratitude, the loyalty programs in the top online casinos are already great. Still, the Christmas promotions are the cherry on top! The bonuses may not be on a plate; however, you can always check your casino cashier or follow our newsletter. This way, you can take advantage of every Christmas promotion.

Advent Calendar
Kids and, let's face it, even we as adults are sometimes pretty impatiently waiting for Christmas. We are excited to find our gifts and to spend the day of Christmas with close ones in the spirit of Christmas. We cook, laugh, and go for a walk together. We may play games, enjoy the group and the food and drinks. But how can you bridge the time until Christmas? Easy; with a Christmas Countdown - in some areas called "Advent Calendar."
As a tale says, a mother of two kids crafted the first advent calendar for her kids, who constantly asked, "Mommy, when's Christmas?." She found a creative way of avoiding this question, yet her kids always knew how long it would take. This Advent Calendar was a countdown toward Christmas eve. Every day a new door got opened and a surprise was behind it.
In reality, the Advent calendar is traced down to the 19th century. Obviously, as the name says, it was more used to count the days of advent in terms of religion. Since the first advent Sunday varies, most advent calendars start on the 1st of December. Gaining more and more popularity as a lovely and creative countdown toward Christmas, the calendar has spread.
Many online casinos have implemented the idea of an advent calendar in their bonus promotions toward Christmas. The slots players can virtually open a new door to find different bonus types behind them. You see, even as an adult, who loves Christmas, you still can enjoy the little things till holly night.
Christmas Travel Destinations
Not gonna lie; we all love traveling, but did you ever travel to another country around Christmas time? Did you ever have the chance to explore foreign countries' cuisine or even walk through the so famous Christmas markets?
Slots Capital Casino isn't just gifting online casino bonuses to its players. We also want you to have fun and a great experience. Besides the best bonuses available, our players also enjoy the luxury of us telling you the best travel destinations to enjoy an extra ordinary Christmas week!
Germany: 
Germany has many Christmas Markets available. The most popular are the ones in Munich, Berlin, or Dresden. Of course, you can combine all the Christmas markets you want in one big trip, sipping warm mulled wine and eating "Bratwurst."

Singapore: 
Although barely connected to Christmas religious-wise, Singapore stepped up the Christmas game to a different level. Mid-November, the Christmas lights are set up and switched on. Shortly after, the restaurants present their festive menus, and there is even a Christmas Wonderland at Gardens by the Bay!

Finnland:
If you want to experience a natural Winter Wonderland, we recommend traveling to Finnland in the second half of December. Then you will have snow guaranteed. Ready to do all the fun winter activities, including reindeer rides, skiing, and taking a walk at dusk when the sky is changing to pink, almost glowing colors?
We understand that some destinations may already be on your bucket list, but you are waiting and saving the funds. Let us tell you that the Christmas Casino Promotion at Slots capital is worth trying. Claim the deposit bonus of your choice, and you have no max cash limit when you win! Meaning when all bonus terms are completed, the money is withdrawn, and showing up on your end, you can book your dream Christmas trip!

Christmas Slots
In the time of the Christmas season, of course, all online casinos offer fantastic bonus codes that you may use to pump up your balance. Besides all-time popular Christmas slots players love at Slots Capital casino, there are a few other games you should try this year with the bonus cash.
Chocolate Slots
The sweet slot from Arrow's Edge is deliciously tasty, and wants one to go for more! More sweets mean more winnings! In the 3x5 Candyland-themed slot, you will discover that chocolate cookies, brownies, and chocolate Ice cream aren't that bad (at least when it comes to generating the max win). With a wandering wild chocolate bar and free spins feature, chances for the big win are increased!
Crazy Christmas
The adorable 3x5 reeler is all about fun, toys, and big cash. On the field, you will also encounter the scatter symbol, represented by the snowman, and the wild symbol, Santa, with a tasty drink, which is substituting towards any icon except the scatter. Watch out for Santa's little helper, the elf with the green hat. He may have a surprise for you! With beautiful and bright Christmas lights your winning lines are highlighted.
Jingle Bell Jackpots
The relaxing 3x5 slot game is perfect for an evening when you need to switch off your busy mind and find joy in the little things. Within Jingle Bell Jackpots, you can have five different jackpots to trigger, where the biggest is at $5000! When you see at least 3 golden gifts appearing, free spins will be awarded, and if you spot Santa and his reindeer, your Jackpot Chance Bonus will begin.
Even more Christmas-themed casino games are waiting for you. Just dash through the snow - ... ehm, we meant - Slots Capital Casino Wonderland.
What fits better to play the best Winter casino games around Christmas than a bonus to celebrate the festive season? Select your desired bonus code when making your deposit, and the bonus should apply instantly.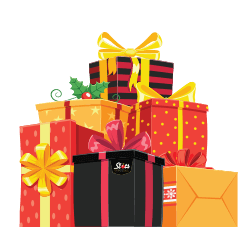 Christmas Casino Promotions
Casino promotions are available throughout the year, but the best comes last, it is said, right? So, of course, our Christmas casino bonuses will bring you joy, free money, and lively excitement in the last month of the year. It's the season to be jolly and, if you ask us, also to win big!
New players might want to start with the welcome bonus at their first deposit. Afterward, they may want to enjoy the Christmas festivities with a fitting reward. Unwrap your Slots Capital Casino gifts under the Christmas tree and see what bonuses do hide inside!
You'll find fantastic deposit bonuses, a free spins bonus, or a combination. Opt in to our newsletter, and if you've been nice, who knows, maybe Santa left a generous free bonus for you under the tree?
Christmas Gifts
Besides the Christmas bonuses, most online casinos promote in beautifully created newsletters, other gifts should be unwrapped too! If you receive a Christmas gift from friends or family, it would be a pity not to open it.
But what if you are the one who wants to give a gift and you have no idea what to organize? No worries! At Slots Capital, players enjoy the featured games of the Christmas promotions and the extra step we are taking for them.
That being said, we have a short but efficient Christmas gift guide for you! There you will find items your partner may have always wanted. Sometimes the biggest surprises are the little ones coming from the bottom of your heart.
Have a Merry Christmas!
You don't have to have the fanciest Christmas decorations or music playing all day long. Important to us is that you enjoy your day and if you want with the company of friends or family members. Rest assured, there will be some bonus money for you at Slots Capital!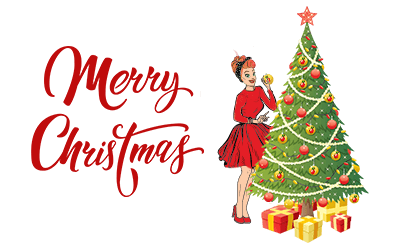 Win big on Christmas eve, but don't blow your winnings away on new year's eve! Get yourself something you've always dreamed of. That's the spirit of the jolly season - fulfilling your dreams and staying cozy!