Are you ready for Women´s Day?
Let´s celebrate all the Ladies!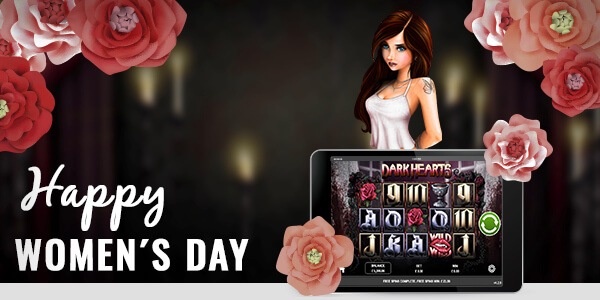 Time to treat ourselves with lovely gifts and sweet bonuses!
What are your favorite gifts to receive or to give? Mine are definitely flowers besides big free bonuses! To send flowers on special occasions is a good way to express love and kindness to those who are special in our hearts. Practicing love and showing kindness are always a good thing. Other than expressing love and kindness, flowers go a long way when it comes to apologies and special occasions, but for the most part, the best time to give her flowers is when there's no occasion at all!  Roses are ranked first on the gift flower list. Roses of different colors have different meanings. Red roses are the Romantic favorites - they symbolize passionate desire. Pink roses signify sophistication and elegance. Yellow is the "friendship" color for roses. White roses mean purity and fidelity. And purple is associated with royalty. A bouquet of purple roses is an excellent choice of Women´s Day flowers, meant for the king/queen of your heart. it is a weekday, make his coworkers jealous with flowers delivered to his office. Whatever flowers you picked, don't forget to express your feelings with a note. Even a simple list of the reasons you love him/her for can be a touching gift and the words "I love you" will mean more than the most exquisite poetry.

Searching for something else? Here are a few ideas to set your creativity rolling:
1. Abandon all ideas of dinner in a crowded restaurant where couples will be jostling for space. Plan a special "time for two" either on a patio over looking a garden or on a boat sailing down a moonlit river or sea. Choose to pack a picnic basket with foods that triggers off memories. For example perhaps the two of you had enjoyed chocolate donuts one day, or a pizza with toppings both love, or a cookie specially baked by you. Take along music or compose a song to sing to her. Serenade her like knights used to on bent knee.
2. If you have gathered many pictures or video clips of your time together then put together an album with specially written captions and a witty heading. You could even say "this gamine grimace enchanted me," be original and let your imagination and sense of humor take wing.
3. If you are going to be away on Women´s Day meet online for a special chat. Make it a cyber date-the World Wide Web will close up the distances.
4. Avoid the run of the mill activities and plan to go to an amusement park or fair. Have a rollicking time on the roller coaster.
5. If you know of a movie she has been dying to see -get it and plan an evening enjoying the film.
6. If she loves gizmos get her a digital camera or video phone.
7. Don your apron and chef's hat and cook a special meal.
8. Pamper her by gifting her a session at a spa she loves.
9. Plan a weekend get-away and take her somewhere special.
10. Pot a special plant for her. One that will grow and bloom along with your relationship.
Get your Women´s Day Bonuses
GOGRILS20
Available 8.03
Get 20 FREE SPINS on Dark Hearts on the 8th of March!
$180 max cashout and 60 times rollover is attached 
GOGIRLS250
Available 8-16.03
250% bonus up to $1500!
Only 45 times rollover
No max cash out

*You don´t need to redeem the bonuses in a consecutive order.  Please read the specific bonus terms when redeeming the bonus. 
Have fun and enjoy!