Lotty organizes a summer party!
So as summer is approaching I decided to organize a summer party! Best idea ever!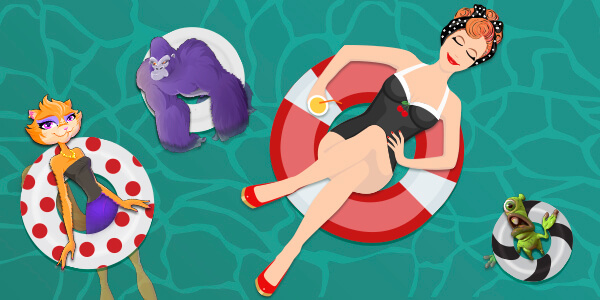 Hi there lovely beings, this is Lotty. 
I love the time when spring turns into summer, and this is that time of the year! So I came up with the ide of organizing a pool party at Slots Capital.
To involve our players we decided to offer you the "Summer Party" bonuses.
Get 250% bonus and 20 Spins on Top for the game Tahiti Time! You can get this bonus 8-15 June 2017!
I started to collect some ideas for my party, and realized that i will need a lot of things! If I want to have my party perfect, I really need to do some shopping. 
The most important part of the party is the location of course! I sent out the invitations to all my friends to join!
As well I just love to drink cocktails on the beach! We will have a bartender, who will create us colorful Cosmopolitans and Mai Tais. My personal favorite is called Swimming Pool and it is a totally blue cocktail! 
I also ordered for the party some inflatable flamingo mattresses as they are the coolest! I know my friends are going to love it!
When I was almost ready with everything and I was waiting for the guests, I quickly checked the weather forecast, and it said  we will have a thunderstorm! Can you imagine? That would have ruined my party totally! So I had to use my super powers, of manifesting luck, and the the sky cleared, and my phone said sunny weather. I know I need to be careful with my luck, as it might go once and I wont have this super power anymore, but this was an emergency!
My friends arrived, and the party was great. In the pool, on my flamingo, playing my current favorite slot game Tahiti Time. Best time ever!
Love to play online slots? Do not hesitate but check our weekly promotions and blog posts every week! We bring you every week an extraordinary bonus to give you a chance to break the bank! You only need to play your favorite game to win!