Pirate weeks at Slots Capital!
Ahoy my friend!

Ahoy hearties, join th' pirate ships sailin' in th' Slots Capital port t' get th' big win!
This month we are bringing you, three legendary pirates! Each pirate sails in with a big bonus, so you will have the chance to join them and get yer doubloons (AKA money)!
Our first pirate is Francis Drake.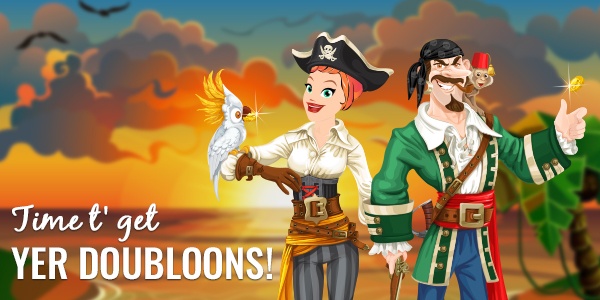 Francis Drake participated in some of the earliest English slaving voyages to Africa and earned a reputation for his privateering, or piracy, against Spanish ships and possessions. Sent by Queen Elizabeth II to South America in 1577, he returned home via the Pacific and became the first Englishman to circumnavigate the globe; the queen rewarded him with a knighthood. In 1588, Drake served as second-in-command during the English victory over the Spanish Armada. The most famous mariner of the Elizabethan Age, he died off the coast of Panama in 1596 and was buried at sea.
Our second legend is Anne Bonny, my personal favorite.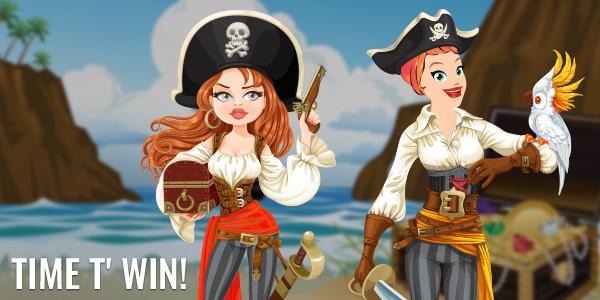 Anne Bonny is remembered as one of the most famous female pirates who operated in the height of the notorious and today highly romanticized period known as " Golden Age of Piracy". During her short few years as a shipmate and lover of the pirate Captain "Calico Jack" Rackham, Anne proved herself to be equal to any other pirate - she worked, drunk and fought alongside her friends in the environment. The mysterious circumstances of Anne Bonny's death continue to fuel the imagination of modern culture, and stories about her adventurous life represent an important part of the entire female pirate history. As one of the two highly publicized female pirates of the early 18th century (together with her friend Mary Reid), the fame of Anne Boone continues to rise with each year.
The last and the biggest name on our list is Blackbeard!
Extremely adept at capturing ships and plundering loot, the pirate Blackbeard struck fear into the hearts of New World seamen—and these days, he's unquestionably the most famous pirate of all time. You can find Blackbeard statues in North Carolina and the U.S. Virgin Islands. A brand of men's hair dye was named after him. And the city of Hampton, Virginia throws an annual pirate festival in his honor. Like many pirates from his era, Blackbeard is a figure with mysterious origins. Some say he was born in the English port of Bristol around 1680; others argue that he was born in Jamaica. He used to call himself Edward, but it's unclear what the last name he used. Most primary documents refer to him as Edward Thatch (although the spelling isn't consistent, and it may have been an assumed name anyway), but the Boston News-Letter and other contemporary newspapers tended to call him Edward Teach. The origin of the moniker Blackbeard, however, is easier to figure out. It was derived from eyewitness testimonies: People who had seen the pirate firsthand often described him as a tall, thinly built man with a long black beard. Blackbeard's fame as an outlaw was solidified after he seized at least 15 ships near the harbors of New York, Philadelphia, and other east coast cities in the fall of 1717. Frightening stories were told and retold by those who'd survived an encounter with him. The tales grew tall. Blackbeard was said to adorn himself with flaming matches or candles, and according to 1724's A General History, "In a time of action, he… stuck lighted matches under his hat, which appears on each side of his face, his eyes naturally looking fierce and wild, made him altogether such a figure that imagination cannot form an idea of a fury, from hell, to look more frightful." Of course, these stories about Blackbeard's fiery antics might be pure folklore—but the image is compelling! Our pirates are bringing you big bonuses, enjoy the following treats during the month!
Check out our special Pirate bonuses!
DRAKE150 - 150% Bonus
Available: 10-16.09
Redeem code: DRAKE150
Min. deposit $35
No max cash out
30 times rollover on winnings
BONNY250 - 250% Bonus
Available: 17-23.09
Redeem code: BONNY250
Min. deposit $35
No max cash out
45 times rollover on winnings
BLACKBEARD300- 300% Bonus
Available: 24-30.09
Redeem code: BLACKBEARD300
Min. deposit $35
No max cash out
45 times rollover on winnings
Redeem them all, and get 100 Free Spins on Jolly Rogers Jackpot! Yey!
Terms and conditions apply. 
Have fun and enjoy!