Top online casino blog news! 
Hey, there and welcome to the Slots Capital Casino Blog - Lotty´s Adventures! – The insightful and enjoyable forum for all of you experienced professionals, aspiring gamblers and everyone with a strong interest in making a bet every now and then. 
We're not going to turn down tired internet travelers who got here via the search engine algorithm's mysterious ways.
Looking for the fundamentals about how to get started in playing, specific info about a game or just a collection of fun facts?
We've got you covered!
Just ensure you consistently join up for our latest news, articles, amusing reads and interesting factoids on casino-related matters.
The Slots Capital Casino "Lotty´s Adventures" contains the most up to date seasonal and occasional promotions, casino games guides, interesting articles, and casino news. 
Enjoy the adventures of Lotty and many interesting articles of the current casino promotions!
Paris is waiting for you!
Nothing says romance like Paris right? Take the chance to get 100 Spins on Champs Elysees!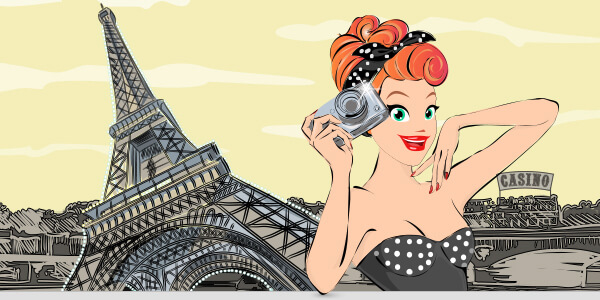 Hi there lovely beings, this is Lotty. 
I decided to go on holidays to Paris, as I just love the ambient of that city! Wonderful food, there is something to do on every corner and many many casinos. You can also join me by playing our Paris themed online slots game, Champs Elysees. 
Paris, wine, love, chocolate, shopping and the most known city in the world! If you search for a game to be drawn away and if you want to experience the most romantic city in the world while spinning a slot machine, then Champs Elysees will help you light up your account with wins!
The City of Lights comes to life in this 50 payline and 5 reel slot game where you'll be running into the Parisian classic images of boutiques, chocolate, wine, crepes and croissants!
Delight in wins when you land 3 or more of the expanding Wild Eiffel Tower Postcard. Three or more of the Arc de Triomphe Postcards will trigger the free spins bonus round.You might not be able to make it to Paris today, but you could certainly be the next to land a more than excellent cash prize while playing our new Champs Elysees!
No promotion without a bonus right?
Deposit $25 and get 50 Spins on game Champs Elysees!
Deposit $50 and get 100 Spins on game Champs Elysees!
Do not hesitate but get in the French mood!
Love to play online slots? Do not hesitate but check our weekly promotions and blog posts every week! We bring you every week an extraordinary bonus to give you a chance to break the bank! You only need to play your favorite game to win!