Top online casino blog news! 
Hey, there and welcome to the Slots Capital Casino Blog - Lotty´s Adventures! – The insightful and enjoyable forum for all of you experienced professionals, aspiring gamblers and everyone with a strong interest in making a bet every now and then. 
We're not going to turn down tired internet travelers who got here via the search engine algorithm's mysterious ways.
Looking for the fundamentals about how to get started in playing, specific info about a game or just a collection of fun facts?
We've got you covered!
Just ensure you consistently join up for our latest news, articles, amusing reads and interesting factoids on casino-related matters.
The Slots Capital Casino "Lotty´s Adventures" contains the most up to date seasonal and occasional promotions, casino games guides, interesting articles, and casino news. 
Enjoy the adventures of Lotty and many interesting articles of the current casino promotions!
Paddy´s Day
Happy Day of the Luck!

Have a Lucky St. Paddys Day!
Celebrated on March 17 to honor the foremost patron saint of Ireland, St Paddys Day is actually very popular around the world for other reasons as well. Festivities generally involve public parades, festivals, green decorations and shamrocks, and much more. Historically, religious restrictions on eating and drinking alcohol were lifted for the day, which has encouraged the tradition of consumption throughout the celebrations.
It is said, though, that the real St Patrick was actually born in Britain around A.D. 390 to an aristocratic Christian family who owned lots of riches, and at age 16 he was kidnapped and sent overseas to tend sheep as a slave, where he became a very deeply believing Christian.
The now-famous young Patrick arrived in Ireland to convert the pagan Irish to Christianity and changing the course of the country. He died on March 17, 461 after 40 years of living in poverty, teaching, traveling and working tirelessly. Many stories and legends grew around Patrick and have now culminated into a world-scale celebration.

Year in, year out, people of Irish descent (and pretty much people from all backgrounds) celebrate this day with religious services and feasts, where usually dancing, singing and even gambling are seen everywhere.
Drowning the shamrock
The good luck of the shamrock actually began as a revered pagan symbol and still remains to this day, and it is said that Patrick used its three leaves to explain the Holy Trinity. It is considered lucky to "drown" the shamrock - dunking it into a glass of whiskey and when the whiskey was drunk, the shamrock at the bottom of the glass would be thrown over the drinker's left shoulder. Legend says it was St. Patrick himself who dunked the shamrock for the first time.
Shamrocks are also famous for the four-leaf clover. Biologically speaking, four-leaf clovers are very rare, as usually they only have three clovers, and a fourth clover is basically a mutation. Since they are so rare to find out in the open, finding one simply makes us feel in luck. So next time you come across one, try logging into an online casino and see where your luck takes you!
Another shared belief is that the four-leaf clover represents hope, faith, love, and luck, while others think it is for fame, wealth, love and health. Either way, the four-leaf clover is one of the most recognizable good luck symbols in the world!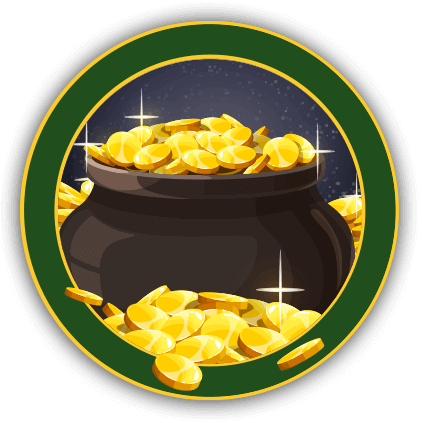 Famous Parades in the US
There are more than 32 million US residents with Irish ancestry (about seven times the population of Ireland), which might explain why it was there that St Patrick's day became a huge celebration that now extends to dozens of countries around the world.
St Patrick's Day Parade has been celebrated in New York since 1762, making it one of the oldest in the US and also one of the world's largest parades overall. The parade, traditionally held on March 17, draws around 150,000 people and two million spectators each year to Fifth Avenue in Manhattan!
While New York might have more manpower, Chicago has a spectacle all on its own. People there have been dying the Chicago River green since 1962! The river is always dyed on the morning of Chicago's St. Patrick's Day parade, which takes place the Sunday before St. Patrick's Day.
The oldest recorded St Patrick's Parade was actually held outside the US or Ireland. On March 17, 1601, Ricardo Artur, an Irish vicar in a Spanish colony, was probably one of the first to bring this tradition outside Ireland.
More than 100 years later, homesick Irish soldiers serving in the English military marched in Boston in 1737 to become the first-ever to do so on American soil, and today millions of Americans of Irish ancestry celebrate their cultural identity and history by enjoying St. Patrick's Day parades.     
Corned beef and cabbage is a traditional St Patrick's day dish, where more than 25 billion pounds of beef and over 2 billion pounds of cabbage are produced each year in the US to meet demand.
Even the US president celebrates St Patrick's! Every year, the US president is given a crystal ball filled with shamrocks ever since 1952, when the Irish ambassador at the time, John Hearne, sent a box of shamrocks to President Harry S. Truman!
Green Everywhere!
It's considered lucky to wear and use the color green during St Patrick's Day celebrations, but the color has a deeper historical meaning, symbolizing the stand against British colonialism for Ireland, and as a way to identify with its culture - actually the green in the Irish flag represents Catholics (while orange represents Protestants, and the white symbolizes peace between them). Also, Ireland itself is known as the ' Green Isle'.
Another reason to wear green on St Patrick's Day is because leprechauns are not able to spot people in that color. If they do spot someone, they will pinch them! Tradition says people are allowed to pinch anyone not wearing green on this day!
…but we should actually wear blue
Historically, the Order of St. Patrick knighthood wore blue and it was also the color of the first coat of arms when the Kingdom of Ireland was created by England's King Henry VIII. Actually, the national color of Ireland is blue - St. Patrick's Blue - as opposed to popular belief that only green has to do with this country.
Actually, the color green only became associated with this holiday after it was liked to the Irish independence movement in the late 18th century.
Celebrated Around the World
Besides the famous parades in New York, Boston, and Chicago, St Patrick's day is also celebrated by thousands of people around the world. Here are some of the most interesting examples of celebrations:
Buenos Aires: The Argentinian capital turns green every March 17. The city hosts the largest St Patrick's Day celebration in the whole of South America and it holds an annual street party in the city center, featuring music, dancing and plenty of beer in the local pubs!
Tokyo: Japan hosts 15 St Patrick's Day parades and festivals each year, and around 180,000 people turn up to watch Tokyo become green for a day!
Singapore: Just as in Chicago, the Singapore River is dyed green each year as the city prepares to host the largest celebration in Southeast Asia!
Montreal: Canadians welcome the Irish season in style by raising a big Irish flag outside the  Place Ville Marie shopping mall one month before the parade takes place on the city's streets!
Sydney: More than 80,000 people gather together to enjoy the St. Patrick's Day Parade, making it the largest such event in the southern hemisphere. Actually, the Irish government helps support organizing and funding such event!
Celebrating in Ireland!
Saint Patrick's day was already being celebrated by the Irish back in the ninth and tenth centuries, but it was in later times that he became widely seen as the patron of Ireland. St Patrick's day sometimes falls during Holy Week, which prevents people from celebrating it as they usually do. This happened in 1940, when Saint Patrick's Day was observed on 3 April to avoid it coinciding with Palm Sunday and again in 2008, where it was officially observed on 15 March. Next time it falls within Holy Week will not be until 2160, so Irish won't have to worry too much about it for a while.
While being an Irish tradition, it wasn't until 1996 where the first St Patrick's Festival was held in Dublin, and in time became a multi-day celebration: In 1997, the holiday became a three-day event, by 2000 it was held for four days, and in 2006 it was finally extended to last five days long!
Celebrations in Ireland include concerts, outdoor performances, fireworks, and Cèilidhs, and Dublin hosts around 1 million visitors overall. Many other cities and towns in Ireland hold their own parades and festivals as well, with cities like Cork, Belfast, Darry, Galway, and Waterford all joining the fun!
What are Cèilidhs?
It is a traditional Irish social gathering that usually involves dancing and playing folk music at a house party or in a bigger hall. Think of them as the discos and nightclubs of yesterday. Cèilidhs facilitated courting and prospects of marriage for young people, and still play an important role for young people in rural parts of Ireland and Scotland.
Nowadays Cèilidhs are combined with popular culture due to its worldwide diversity. Acts also include electronic dance music, jazz, rock and ska that combine their music with the traditional Irish sound.
Let's have a pint or three
Beer is one of the most widely consumed beverages on St Patrick's Day, and the Irish beer Guinness is the top choice among attendants. There is also a growing trend in green beer and green-dyed food, which has been seen with some concern. While dye may cause health problems, attendants would have to drink a lot more dye than the beers contain to cause health problems.
An incredible 13 million pints of Guinness will be consumed around the world on March 17, which is around 174% more beer sold in St Patrick's Day than on any other day.
It doesn't matter where you are in the world. If you' re feeling lucky take out your green (or blue!) clothes and start celebrating your way! Head to a pub and join in the celebrations, or attend the parades and have a day out. Also, why not give it a try at the slots and win huge cash prizes on this day? Who knows, you might find your virtual four-leaf clover and hit the jackpot!