Halloween bonuses at Slots Capital
At Slots Capital we simply love Halloween!
Halloween bonuses at Slots Capital for 2019
Time to make the most out of the Halloween Season!
At Slots Capital we simply love Halloween! We prepare all the spooky bonuses for this time of the year, so our dear players can enjoy some free spins and big bonuses during the whole month of October.
What can you expect this year?
Let us start with a big bonus, which is available for the whole month! Bonuscode: ADOREOCTOBER
Available: 1-31.10-2019
300% bonus
minimum deposit $35
max deposit $500
45 times rollover
no max cash out
sticky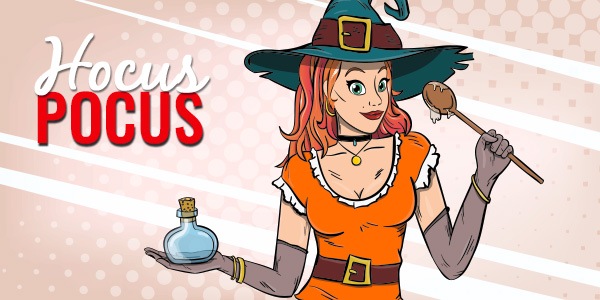 Did you know that the earliest known English-language text on magic, or what was then known as legerdemain (sleight of hand), was published anonymously in 1635 under the title Hocus Pocus Junior: The Anatomie of Legerdemain? It is also said that "Hocus Pocus" was the stage name of a well-known magician of the era. This can be William Vincent, who is recorded as having been granted a license to perform magic in England in 1619. Whether he was the author of the book is unknown. Source "Wikipedia" We totally admire the idea of this made up word, therefore there you go with a big bonus of 200%!
Bonus: Hocus Pocus: 200%
Available: 4-13.10-2019
Redeem code: Hocus Pocus
200% bonus
minimum deposit $35
max deposit $500
35 times rollover
no max cash out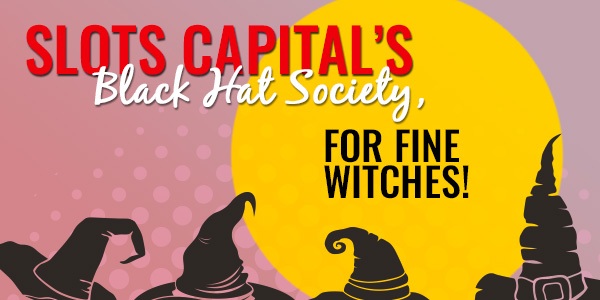 In order to prepare for Halloween, we decided to form our own Black Hat Society at Slots Capital! Will you join us? We have a great Luck Spell for you and a Big Bonus!! Make your dreams come true!
You can use the Stone of Luck spell for anything, love, money, health, wealth, spirit awareness, etc. The key to this empowerment is concentration and belief. When you have completed this spell, carry the stone around with you. Eventually, you will start to get what you want. What you need:
Small stone of your choice (any kind), 1 candle (correct color for what you want), Appropriate herbs, Appropriate incense, Salt Water, A cloth, Oil (either olive, jasmine, or mint), Some bowls (glass or crystal)
First, you need to meditate on what you want, be it money, love, better health….whatever you want. After you feel you have meditated long enough, you may start the spell. Light the candle and incense. (Be sure you have all of the things you need with you.) Hold the rock in your power hand. Concentrate on what you want. Run the rock through the flame 3 times. Then put it into the water. Cup your hands over the bowl. Then take the rock out of the water and sprinkle the herbs on it. After you have done that, put the rock into a dry bowl. Visualize yourself getting what you want. Then anoint the rock with the oil and put the rock back into the dry bowl. Sprinkle some salt onto the rock. Concentrate more. Then wrap the rock in the cloth and leave it for at least 24 hours. Let the candle and incense burn all the way out. Dispose of the water. Have fun!
To be even more successful, redeem bonus Black Hat!
Bonus code: BLACK HAT 200 
Available: 14-20.10-2019
200% bonus
minimum deposit $35
max deposit $500
35 times rollover
no max cash out
We are thinking about our fury little friends, the Black Cats this month too! Legend had it that witches could transform into a black cat and back, emphasizing superstitions of these furry creatures. Some people even believed that witches could re-incarnate into black cats after death. Additionally, there was the Middle Age legend that the devil often gifted black cats to witches to act as their servants. As a result, witches – and their black cats – have become a commercialized symbol of Halloween. And with the recent surge in self-proclaimed proud cat ladies, it's no surprise that they also double as one of today's most popular costumes.
Enjoy 250% Bonus by redeeming the bonus code BLACKCAT250!
Bonus code: BLACKCAT250 
Available: 21.10-05.11-2019
250% bonus
minimum deposit $35
max deposit $500
Prepare with us for some Halloween Free Spins! For this spooky night, we will offer 25 free spins on the game Hot Hand if you have deposited in October 2019!
Bonus Code: HALLOWEEN 
Available: 31.10-05.11.2019
25 Free Spins on Hot Hand
Only for players who deposited in October
60 times rollover
$180 max cash out
Best Halloween Games at Slots Capital
Hot Hand
Say hello to Burnadette: your sexy she-devil hostess that will guide towards fiery wins in the 5 reels and 3 paylines of the new Hot Hand slot. Hot Hand is a sweltering game that's packed with your favorite classic symbols designed with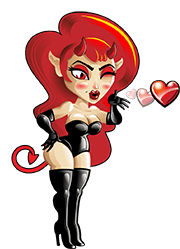 a flaming and rewarding twist. This simple yet exciting new slot will quickly fire up your desire to land winning combinations.
Hot Hand is a rewarding game that offers the chance to use many different coin sizes that range from 0.01, 0.05, 0.10, 0.25, 0.50, 1.00, 2.00 and up to 5.00 (configurable). The symbols found on the Hot Hand reels include the classic suit symbols such as hearts, spades, diamonds, and clubs. Moreover, wins can be amassed with help from blazing bells, combustible cherries, glowing gems, sizzling 7's, and even everyone's favorite lady Burnadette.
Collecting jackpot prizes is possible with help from 2x wild multipliers that appear on the 1st reel, 3x wild multipliers appearing on the 2nd reel, and 4x wild multipliers that emerge on the 3rd reel. And what's more, extra blazing hot wins are feasible when these multipliers come together.
Burning good times and hot roasting rewards are up for grabs when spinning the new Hot Hand slot!
Dark Hearts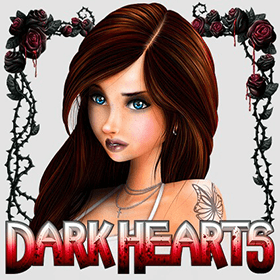 Centuries-old vampires Victor and Marcus fight for the affection and the eternal soul of Willow. They offer her Roses and a drink from their Chalice, but she resists their advances with her silver Crucifix. The Dark Hearts icon represents Willow's beating heart. The glimmering Nine, Ten, Jack, Queen, King, and Ace complete the icons.
The Love Bite is a Wild!
Three or more Key icons triggers the Player's Choice Chamber! Inside the chamber, Free Spins and Multipliers are represented by Viktor, Marcus, and Willow. Choose your character and Free Spins!
Dr. Acula
It's that time of year again! – Nights are getting longer, Hallowe'en is approaching and the ghouls are out looking for some fresh blood. Luckily, Dr. Acula is ready to administer a transfusion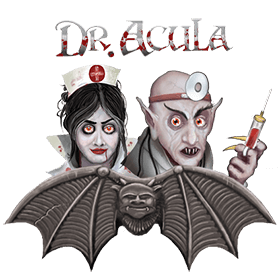 of fun in a new 3 reel brimming with bats, blood and booty!
Deep in the depths of Castle Acula the Doctor awaits. Assisted by his charming nurse and his bevy of bats, Dr. Acula has a sure cure for whatever is ailing his patients. Treatment starts with just one spin of this easy playing 3-reel with five pay lines. The icon set includes a squirty syringe, pulsating plasma bags and tinkling test tubes. Also included are lucky lightning sevens, the Doctor and Nurse Acula.
Dr. Acula's prescription for winning includes multi symbol payouts! Three of the blood bank symbols (syringe, plasma bags, and test tubes) AND Triple Lucky Lightning Sevens will both scare up some big wins! The Dr. Acula icon offers a double shot of winning chances as it's the WILD and the JACKPOT icon!
If you want to win give Dr. Acula a spin, because at Hallowe'en this doctor is always in!
How did Halloween became so popular among the adults?
Halloween used to be kid stuff. To quit dressing up was an important rite of passage. It meant you were one step closer to becoming an adult.
Not anymore. Today adults have become avid Halloween revelers, especially young adults.
By 2005, just over half of adults celebrated Halloween. Today, that number has grown to over 70 percent. Those between 18 and 34 years old participate at the highest rate, and they're also the holiday's biggest spenders, shelling out over twice as much on their costumes as older adults and children.
Halloween celebrations have changed, too: less trick-or-treating and more parties and bar hopping.
Why has this been happening?
Some blame it on millennials' refusal to grow up and enter the "real world."
But that's too simplistic of an explanation. Young adults' embrace of Halloween could have something to do with the fact that adulthood itself has changed.
If Halloween has become more popular among adults, it's because traditional markers of adulthood have become less clear and less attainable.
Millennial monsters
So why an emerging adult might be drawn to Halloween?
Most obviously, Halloween costumes let them experiment and explore self and identity. The possibilities are endless. Witch? Robot couple? Sexy Robot? Emoji? Banksy's shredded art?
Costumes are identity work, but they are also just plain work. That matters in a world in which many young adults are stuck in unfulfilling jobs.
Cultural critic Malcolm Harris argues that young adults – despite being highly educated and hardworking compared to older cohorts – rarely find jobs matching their credentials and abilities.
During Halloween, hard work and creative thinking matter. For example, costume contests, in bars or online, provide opportunities for people to construct costumes that meld humorous or timely cultural references with craft skills. You can do more than simply participate in Halloween; you can "win it" with the best costume.
And young adults don't do it alone. Some have told me that they'll test out different costumes on social media to see which gets the best response. Others will look to others online for inspiration.
In this way, Halloween meshes with modern networked culture, in which young adults are using social media to navigate the world and make choices. Sociologists have found that many young adults build "collaborative selves" by continuously looking to others online to reinforce and evaluate their identities.
Halloween has always promised the chance to be creative and to become something else.
But in embracing the holiday, emerging adults are doing more than reject traditional adulthood. They're playing with identity in a way that puts their skills and cultural competence to work. They're defining new ways to be – and become – an adult. And in the process, they've changed the way Halloween is celebrated.
Source:theconersation.com
Terms and conditions apply. 
Have fun and enjoy!