Spooky Spins & Monstrous Winnings on Halloween
Halloween is all about a good spook, horrifying good slots, sweet candies, bonuses, and winnings. Are you as hyped as we are?
Halloween is the day you have been waiting for all year. Your dark soul completely adores the season of ghosts & ghouls, but something seems missing. Fear not, friend! Slots Capital has what you are looking for - spooky spins to celebrate Halloween!

Hello, What? Halloween!
Halloween takes place every year on October 31st. In 2023, your ghostly soul can go trick or treating on a Tuesday. Many and more years ago, the Halloween festivities were called "All Hallows' Eve" to pay tribute to the All Saint's Day, which was coming after. After some time, the name turned into Halloween.
Halloween originally is an Irish event which comes from the Celtic culture. It was said and believed that this day, the curtain between our world and the world of the supernatural was very thin. As a cherry on top, it was believed that the souls of the dead returned that day. In ancient origins, people started placing carved pumpkins on the front door to scare away the ghosts and dressed up. All this was a kind of ward so that the haunting souls couldn't find them anymore. Additionally, the last day of October marks the end of the warmer days and welcomes the dark and cold season.
🎃 Did you know that the last Monday in October has been a bank holiday for the Irish population since 1977?
After the years, Halloween transformed into a day full of trick-or-treat, candy, and costumes. Commercials are advertising Halloween big on the media to make the best profit from it. People love throwing a spooky Halloween party, watching slasher films, and incorporating all that in the American tradition of celebrating Halloween.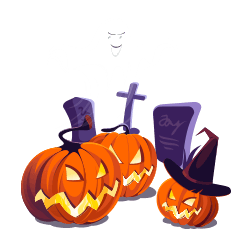 Black Cats and Ghosts on Halloween
Besides haunted houses, hunting for sweets, and pumpkins, there are a few creatures that fit into the theme of Halloween night. As Christmas has its reindeer, Halloween has black cats, spiders, (were)wolves, and many more. These not-so-frightening animals add a furry or feathery touch to every spooky story around the night of Halloween.
The Black Cats
The furry black creatures are said to be best friends with witches. In many cultures, black cats are linked to bringing bad luck when they cross your way. Until this day, black cats are a strong symbol at Halloween, doesn't matter if they look cute or with a glimpse of a devil's soul in their eyes. With cats, your life may take a spooky turn!
Raven and Crow
The flying barrier of news in the realm - the raven. Being able to fly and wearing black feathers made it easy for people to associate the raven with Halloween. In addition to that, if you see a raven or a crow, you should consider that a bad sign. It is believed that ravens are detecting souls of the dead, thus a bad omen if you spot them close to you. Now, the scene of walking through the woods and suddenly hearing the sound of a raven sounds so terrifying, right?
Bats
These blood-sucking animals can't be forgotten. Since the bats are nocturnal, meaning they are active at night and live in caves, this might be the reason why people think of bats when it comes to Halloween. The flying creatures of the night are said to be followers of great vampire counts, if not a vampire themselves.

Famous Halloween Celebrities
We all know the typical Halloween movies. There is either a man dressed with a mask hunting the main cast, an alluring, good-looking Vampire who wants you to spend the afterlife with, or a wicked witch wanting you to collect items for her spell on you.
Vampires
Graf Dracula and Nosferatu are the vampires in History you should know of. Young people may not know them but probably think of the modern vampires Edward Cullen (from the Twilight Saga) and Stefan and Damon Salvatore (from Vampire Diaries). Neither of the last three can actually transform into a bat, but the older ones are for sure.
Get your garlic ready, as there are some vampires seen at Slots Capital. Spin the reels with care, and you will be rewarded highly!
Witches
Unlike fairies, who are all about glitter, lovely little wings, and being cute and playful, witches are said to be riding a broom, wearing dark clothes, and living in the woods in a cabin. They have no fairy dust for the magic, but they are very talented when it comes to casting spells.
Rest assured, the witches of Slots Capital only have good intentions for your Halloween party. Watch out; the witch might cast a winning spell granting you lots of spooky spins on the slots!
Top Model Heidi Klum
We are curious to see what top model Heidi Klum comes up with this year. She is known for her famous high society Halloween Parties and her fantastic costumes. She is always mysterious about her ideas and only gives little hints only a few days before the big event.
What comes after Harley Quinn?
When we think of Halloween costumes, Michael Myers, Freddy Krueger, or Ghostface may come to mind. They all have great potential, but Halloween costumes do not always have to be bloody, gory, or spooky. People love to dress up for Halloween in costumes of their favorite gaming characters or movie icons as well.
For the women, it was Harley Quinn in 2021 and Wednesday Addams in 2022. From Harley to Wednesday, what do you think it can be this year? Our guess is that Barbie has a high potential of becoming the trendiest Halloween costume in 2023! Pretty sure lots of young adults will team up with friends or their partners, and we are sure that will be "Kenough" to be the highlight of the Halloween celebration.
Whatever you want to dress up this year, make sure you have fun spooking around, and the evil spirits won't be able to hunt you down the streets!
Halloween Activities
Are you up to exploring Halloween with all it has to offer? No need to take a photo in a graveyard as a test of courage. Here are some must-do activities you should do this year with friends and family.
Trick or Treat
Get going; the sweets aren't collecting themselves!
It may sound odd to you to go hunting for sweets in a costume. Trick or treat is by far the thing kids love to do. It would mean a lot to them if you join them. May they learn some tricks to get more candy from you? Be the bigger person, dress up, and join them in.
Watching Scary Movies
We Americans spend Halloween watching movies with scary and spooky spins and twists in the plot. Have you ever gone to the movies on Halloween? That is so much fun, and you see people doing jump scares and pranks on each other! What fun that must be.
Scaring Someone
Last but not least, scare someone! Participate in a little Halloween prank, nothing too serious. Make your loved ones jump and scream, but remember to share a burst of laughter together.
These activities are just a few of the "Halloween traditions" we incorporated in our lives. With the other countries now celebrating Halloween, their day may look a bit different than ours.

Halloween-themed Slots Assuring Spooky Spins
If you are not the kind of party animal who wants to go trick or treating, sit down and relax a bit. At Slots Capital Casino, you don't have to walk from door to door and ask for something sweet. We love giving our players a sweet and great casino time. Thus, great and spooky bonuses are awaiting you here!
Claim one of the stunning promotions and enjoy the slots to the fullest. To enjoy the Halloween promotions, you might want to play some games from our Halloween game collection.
The Wicked Witches
The wicked 3 x 5 reel is all about spooky rewards. This dark slot with colorful icons in neon dust pays out in 27 lines. The expanding wild of a pumpkin-headed scarecrow reminds you of Jack-o-lantern. The gorgeous witches will lead the way with their magic casts. The spooky, slow, and yet magical music mixed with the scream of the crows will give you goosebumps. Not to mention how the chills will be when the slot machine lets you hear the "cha-ching" sound of the spooky cash you just triggered!
Zombie Invasion
The slot with pure horror and yet fun at Slots Capital is Zombie Invasion. With the biohazard scatter button appearing three times on the field, the free spin feature will start. Join the group of survivors exploring the hospital of the escaping city feature. Open the right doors to get to the rooftop for freedom and the big win. We understand that this might be too scary for you. Perhaps the trick-or-treaters here want to go for a candy hunt in the next slot?
Iscream
Probably, you've heard this before, but the wording "I scream for ice cream" fits perfectly for the slot. This casino game is one of a different kind. The Iscream slot doesn't have any payline but rather pays out depending on how many of the same icons appear next to each other. If at least 9 of the same icons appear in the 5 x 6 field, you will be rewarded. Life is too short not to enjoy its sweet treats. The Iscream slot will fill up your candy bag and your casino balance.

Are you ready for Spooktober and Halloween celebrations on the scariest night of the year? Hit the button, start playing with the spooky spins, and win deadly high. The sweets somehow have to pay off, right?