Mr. Vegas 2: Big Money Tower
He's back and prepared to plunge right into a Las Vegas state of mind! 
Mr. Vegas 2: Big Money Tower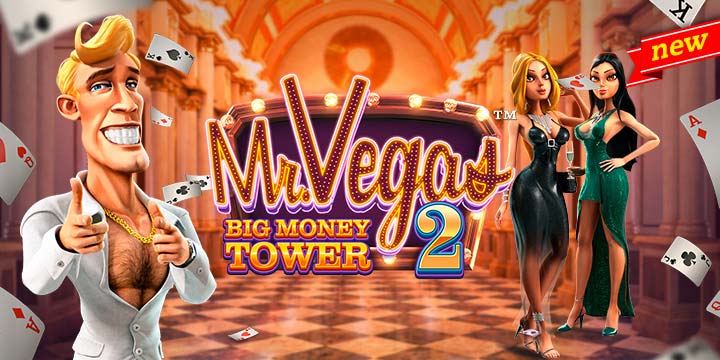 Theme
In MR. VEGAS 2: BIG MONEY TOWER, he's back and prepared to plunge right into a Las Vegas state of mind. In the game that fills every spin with the highest potential wins and is the ultimate luxury casino trip, join the entourage and indulge in all the thrills and frills that Sin City has to offer. Every player will be enchanted by the thrilling high roller atmosphere of Betsoft's newest video slot, right from the comfort of their own seats.
Symbols
With every spin in MR. VEGAS 2: BIG MONEY TOWER, players have the potential to earn up to 2601X their wager! Smooth jazz music playing in the background pairs wonderfully with the 5 reels and 4 rows of symbols with a casino motif as the machine gracefully chatters through each spin. The thrill and prizes keep coming thanks to adrenaline-pumping additional features like the BIG MONEY TOWER! To start climbing the BIG MONEY TOWER, flip a coin, and go rung by rung until you reach the top and the desired BIG MONEY PRIZE.
Special Features
The BIG MONEY TOWER comes in BRONZE, SILVER, and GOLD variations, chosen at random each time the event is activated! To find out your chances of winning, climb the tower and flip a coin on each rung. You win if the coin lands on COLLECT PRIZE. When COLLECT occurs, the greatest value win is finally awarded when the feature is over. If the coin lands on SPIN AGAIN, try again for a chance to win the reward on the next rung.
Free Spins
A PICK BONUS and FREE SPINS mode are activated by 3 SCATTER on reels 2, 3, and 4! Select two cards to reveal one of three possibilities: It is possible to receive 10 FREE SPINS with STICKY WILDS, 12 FREE SPINS with EXPANDING WILDS, or 15 FREE SPINS with RANDOM WILDS.
Stacked Mystery Symbols
Prior to the start of each reel spin, certain positions on each reel, known as STACKED MYSTERY SYMBOLS, are swapped out for one random symbol. Every spin, the same symbol is placed in these MYSTERY SYMBOL locations.
Verdict
With its simple gameplay, practically endless winning potential, and a variety of generous bonus bonuses, this immensely popular game style appeals to all players.