Love Beach - The Beach Slot For Falling in Love & Getting Rich
Get Rich and Fall In Love in This Slot
In some areas around the world, the weather is getting warmer and its season changes to summer. A hot summer you may be looking forward to. At Slots Capital that means a hot summer in terms of new online slots. You feel like the need to go to the beach but can't make it there? We will bring the beach to you! Just in time, game provider Dragon Gaming is releasing its unique and extremely hot slot named Love Beach and you can play it here at Slots Capital Casino.
You may have wondered why the name sounds familiar. In 1978 the group Emerson, Lake & Palmer released a record with the same name as the beach slot; Love Beach. Sad to say, that the musicians had a break up shortly after. But no worries, at the Love Beach slot, there are no sad breakups, just great payouts.
Now, dip your toes in the sand and enjoy playing online slots while the sun goes down! That's the best time to win, isn't it? Do you know what the sunset is also good for? Have a lovely beach flirt. At Love Beach, you can have it all, from fantastic graphics to hidden love boxes and a beach romance, bonus rounds, free games, beach vibes and not to forget; the rewards!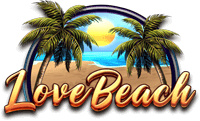 Love Beach - a Slot about Love and Winnings
Love Beach is a new and fantastic slot released on May 26th. With its low volatility, loveable bonus feature and paylines it can give you big wins on a sunny afternoon while you are sipping your cocktail. What about a "winnings on the beach" cocktail to get you to start?
Get ready for Love Beach
Love Beach is a 5x3 video slot game and like most slot games, it has a dedicated theme. With the not-so-hidden vibe of tropical romance at the beach driving it forward, rest assured, this game is all about winning combinations, fun and entertainment while playing. Love Beach will surely have a loving surprise for you, featuring an RTP of about 95.97%.
Love Beach has 10 fixed pay lines and rather low volatility for the type of slot it is. While some are crazy in love, we are crazy about your possible payout! With the 10 fixed pay lines and the low volatility, it offers a steadier experience compared to high-volatility games. For some people, that's the exact kind of slot that they're looking for.
Wild Love and Wild Symbols at the Love Beach
As with any other slot machine, certain symbols need to be triggered to get rewarded with cash. A hot beach setup requires fitting icons, don't you agree? Thus the style of the icons is fresh, sharp, and let us tell you, hot all the way! The visuals of Love Beach are stunningly realistic while still standing inside the realm of art instead of photography.
Letters of LOVE
When talking about love, no one can deny that receiving love letters isn't giving you butterflies. Even on the Love Beach slot, you can receive some. While in other slot machines the low-tier symbols are card marks, at Love Beach, literally, the letters of L-O-V-E appear in the game instead. There is also the chance that you can trigger Love Boxes throughout your spinning visit at Love Beach.
Handsome People on the Beach
Since this slot is all about winnings and love at the beach, good-looking people shouldn't be missing. Who wouldn't fall for a handsome guy like Chris Hemsworth or a beautiful woman dressed in red? All other symbols besides the L-O-V-E letters have a higher value. No wonder they put stunning hotties to the top.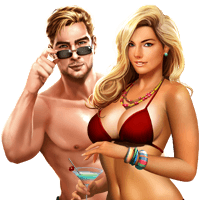 The icon with the highest value assigned is the one with the lovers on the beach. A kiss speaks more than 1000 words. Get speechless falling in love with this beach slot at Slots Capital Casino!
The Drinks are on the House!
Besides the hotties on the beach, of course, there are also the drinks that you can look forward to. Are you done with your "winnings on the beach" drink? Move forward to the tasty orange-colored "love on the beach" on ice with a cherry on top! The glass on the beach icon is one of the higher value icons but don't get too thirsty for the drinks; the love and rewards are still waiting for you!
Lovely Love Boxes
As said earlier, at the Love Beach slot, you have the chance to collect seven Love Boxes. With each and every Love Box, you will receive lovely and flirty love letters. The number seven seems to have a special meaning, right? Fun fact on the side; did you know that in some countries, when you are in love or extremely, over the top, happy (with someone), you would consider that you are on cloud or sky 7? This is equivalent to the saying, that being on cloud 9 is the feeling when you are in love, in the states.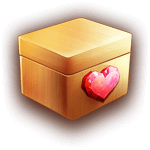 After collecting the seven Love Boxes you will go on a date night! Maybe not a real date night, but you will get to unlock the romantic free spin feature. All the collected love boxes will be displayed and you can pick to open one.
Each box has a different amount of free spins and multiplier. One box, for example, can contain 20 free spins of 2x, while another box offers a multiplier of 5 x and 10 free spins. Free spins can't be retriggered.
The boxes are always a surprise and you could earn 5, 8, 10, 15, 18, or 20 free spins and a multiplier between 2x and 7 times. You can get even bigger wins and win even more money by a lucky pick of chance, and the chance is high.
Wild symbol
The best online slots offer a wild symbol. The Love Beach game Icon itself is the wild symbol here and substitutes for all symbols except the bonus icons. Get a high return with the wild picturesque beach icon with palm trees and flowers.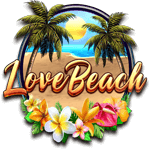 Existing players as new players will love spinning the beach slot reels! Sign in and play Love Beach today! The beach slot will deliver you fun, excitement, and rewards. The water is just right and the prizes are big! Don't wait any longer!