Play It Safe: Casino Internet Banking Tips Protecting Your Bankroll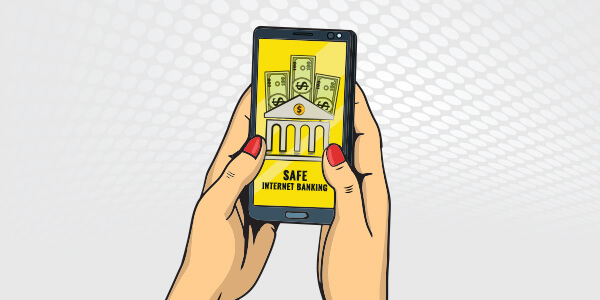 Do you know every measurement to keep your banking details safe? Here's a checklist for you!
In the 21st Century, which we are in, we are living in the digital world. By entering our financial information, we can order everything online, arrange appointments digitally, and send money from our bank account or any other digital wallet to pay for the items and services we want to buy.
For playing online casino games at Slots Capital Casino, you are using an entertainment service. Thus you have payment methods connected to the internet that are available for depositing. The method you want to use is up to your comfort.
Protecting your personal and financial information is crucial in such a digitalized world. If you question yourself, "is online banking safe" we have good news for you. With the cybersecurity tips to stay secure, we are covering common mistakes and how to avoid greater risk. You can apply those tips easily on any site you are browsing.
How To Keep Your Personal Information Safe?
To gain access to websites you registered at, you may need to enter personal information. This information should be kept confidential. Thus here are a few tips on maintaining safety with your login credentials.
Keep Your Information Up To Date
Most (email) portals ask you to set a backup email address in case of a forgotten password. If this mail is not current, you might get into trouble. Therefore always make sure your information is up to date. Wherever that means your address, phone number, or email address. When using online or mobile banking, it is crucial to have everything up to date.
How Should One Remember All Passwords?
Never share your password credentials! Never ever! On every site, you need a username to log in, use a unique username and a different password. With the many pages you might have registered, it can be overwhelming to remember them. Yet, it is not recommended to store them on a piece of paper or on your phone notes.
If you really want to keep them somewhere, use a dedicated app that also is secured using a master key! According to our research, the following password manager tools have an outstanding reputation:
1Password
This application charges a small amount for providing it's service. You can get a single account or your family (up to 5 members). For 1Password you have a 14 days trial, which you can decide if you want to use.

Bitwarden
The open-source tool Bitwarden allows you to use their service for free. You have unlimited passwords on unlimited devices as well as all core functions. Additionally to the free account, they also offer a premium and family option.
Make Use of Multi-factor Authentication
What is better than one protection wall? Right, a second one! Many websites offer you a 2F authentication login. What is 2F authentication? 2F = Two-factor authentication, meaning you have an extra layer of security. With two-factor authentication, you will have to enter your password and, in addition, the random numbers the authentication app gives you. Most people have a 2F authentication app on their phones.
Change Your Password Regularly
Most of us prefer not to change passwords due to comfort. However, it's better to change your account passwords regularly for safety reasons. If you have a struggle remembering the new password, simply update the entry in your password manager application.
Choose Strong and Unique Passwords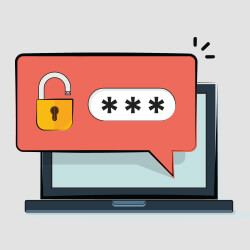 Try to think of something you can remember easily and add a little twist to it. Strong passwords help to keep your account safe. But what is a strong password? For a strong login password, add a mix of the following:
An uppercase character (A-Z)
Lowercase letters (a-z)
Numbers (0-9)
Special characters (such as !, #, or %)
The best is if it contains ten or more characters in total. Take the following sentence as an example:
"I love playing at Slots Capital Casino for fun!"
Then you could use this easy-to-remember sentence and form your password to look something like:
"I<3play1ng@SCC4Fun!"
Never use the same password on multiple pages! It is easy to access these accounts if you use the same across the pages you are logged in to.
Gamble At Reputable Casinos
Make sure you sign up at a known online casino. Slots Capital is one of the best choices you can make. With the slots and casino games from Rival, Dragon Gaming, Betsoft, and others, you will find the best online entertainment worldwide.
Are You Still connected?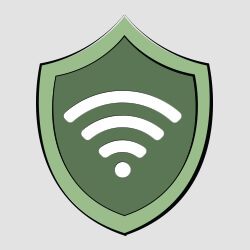 Nobody likes to use a wacky and open internet connection. Make sure you have a secure internet connection that is password safe. At home, it might be only one connection but with the mobile device in our pockets, it's different. With all the available public Wi-Fi out there, hopefully, we do not have to mention that you should have anti-virus software installed on your smartphone.
Refrain From Using Public Computers Or Wi-Fi When Banking Online
Do you have something urgent to check on while you are out in public? Never access online banking or any other sensitive applications while connected to open wi fi. We suggest turning off your Bluetooth and not logging into public Wi-Fi. To prevent unauthorized access, you can handle your online banking business with mobile data.
Disconnect Your Internet When Not Using It
We all have our little computers in our pockets - 24/7. The only difference to a stationary computer device is that we would turn that off after using it. The smartphone is always on, and we usually keep Wi-Fi, NFC, and Bluetooth enabled. Disconnect your device from the internet when you don't need it. If you are worried about missing WhatsApp messages, people can call you in urgent cases.
Check The SSL Encryption
A site with SSL encryption (Secure Sockets Layer) is next-level safe. It uses encryption algorithms to make your data unreadable between users and websites. This prevents hackers from practicing identity theft. SSL is an Internet security protocol based on encryption.
Suppose a page has SSL encryption, and you need to check your online banking, but there is no other way to do your online banking business in public Wi-Fi. In that case, you might want to use a VPN (Virtual Private Network). It is easy to install on your device.
How Can I Keep My Money Safe?
To fund your online gambling account, you have many deposit options available. All of them are secure, as here at Slots Capital Casino, we only provide safe online banking methods. You might not be sure about the security of other sites' offered payment methods.
Use Secure Payment Methods
For online banking, you might have to enter financial and personal details. This is sensitive information. Thus, you need to make sure you are using a secure payment method. If you think of using a deposit method that isn't worth the hustle, you might better listen to your gut feeling. Only choose payment methods that are secure and known.
You might also check your transaction history occasionally, just in case, to take action on a possible questionable transaction. Forward it immediately to your contact person from the payment method, and your account will be safe.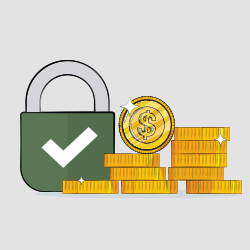 Choose Trustworthy Financial Apps
For your security, never use any apps not provided by your bank or credit union itself! Never enter your login details in a financial app you found on your app store just because it has good ratings.
Always check the provider information and the technical details. Read the conditions carefully of the app itself. From there, you can estimate if the app is trustworthy or better to keep your hands away from it.
Protect Your Money With Anonymity
Use Bitcoin! Bitcoin allows you to deposit your money with anonymity and centralized banks. You are able to transfer money every day of the year, even on Christmas!
Old But Gold - Other Ways How To Protect Your Information
When you receive emails from your banking provider with an alert or a warning, you may double-check check it's legit. If you sense suspicious activity behind that email, do not open any email links added to that. If you are uncertain, give your bank a phone call and clarify the authenticity of the email.
A phone call might not be in the internet section, yet you need to be careful with any suspicious call you might get. Never give away personal information via the phone.
We hope this casino safe internet banking tips will help you in the future. Now you are ready to make your deposit at Slots Capital Casino and enjoy the slot game variation!