Golden Savanna
Explore this new 6x4 slot game that has the potential to become an absolute legend as you set out on this adventure in the Savanna.
Golden Savanna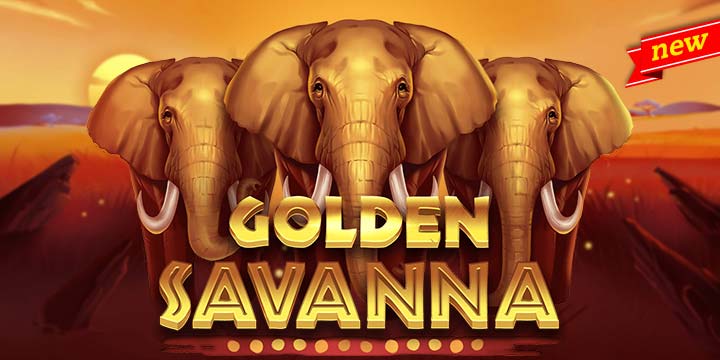 Theme
Savannah is a type of grassland biome characterized by tall grasses, scattered trees, and warm temperatures. Savannahs are found in many parts of the world, particularly in Africa, where they are home to a diverse array of wildlife, including elephants.
Elephants are the largest land animals on Earth and are known for their distinctive long trunks, ivory tusks, and large ears. They are found in savannahs, forests, and other habitats throughout Africa and Asia. Elephants are intelligent, social animals that live in herds led by a matriarch, and they play an important ecological role in their ecosystems by shaping the landscape and spreading seeds as they move through their environment. Unfortunately, elephants are also threatened by habitat loss and poaching for their ivory, and many conservation efforts are underway to protect them and their habitats.
Special Features
6 x 4 Reels of Fun, 4096 ways of winning
• Free Spins –The adventure gets even more epic with WILD MULTIPLIERS 
• WILD MULTIPLIER: During Free Spins, the WILD symbol becomes a 'WILD MULTIPLIER' and can multiply any 
win by up to 3125
Verdict
African themed games have gained popularity in recent years, particularly in the video game industry. Games that are set in or inspired by African cultures and environments can offer a unique and immersive experience for players, and can also help to promote awareness and appreciation for the diversity of the African continent.