CashtoCode: new casino deposit method
Ready to deposit with CashtoCode? Great. We're ready to show you how it's done.
Enjoy 50 Free Spins for Witches of Salem for your CashtoCode Deposit!
Redeem: Deposit with CASHTOCODE and get 50 Spins on top for Witches of Salem
No max cashout!
60 times rollover 
Min. deposit is $25 or R250
What is CashtoCode eVoucher deposit method? 💡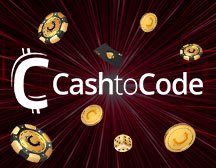 A few details you should know about CashtoCode:
Prepaid online voucher
No bank card details required
Min deposit $25
Processing time: instant
CashtoCode lets you pay easily and securely in cash on the Internet. CashtoCode is a voucher-based payment system which allows you to make instant cash payment into your Slots Capital account without requesting bank or credit card details. You can use CashtoCode to pay in cash on hundreds of websites online like Slots Capital. Their exclusive partners include reputable and licensed betting providers, online casinos, lottery providers, online dating sites, VPN providers and file-sharing sites. . Thanks to its 100,000 partner retailer outlets, CashtoCode is also in a place near you!
5 steps: how to deposit with CashtoCode eVoucher deposit method? 💰
Got your eVoucher? Now follow the steps below:
Head to the Bank
Select the option to deposit with CashtoCode
Choose your desired deposit amount.
Min. deposit is $25.
Enter the 20 character CashtoCode voucher code that you purchased previously and you're done :)
*Please note that the amount of the eVoucher must correspond to the amount of the deposit. The amount of the eVoucher cannot be split into smaller deposit amounts.
How does CashtoCode eVoucher deposit method work? 🎫
CashtoCode - How does it work from CashtoCode on Vimeo.
The process is straightforward. When you log into your Casino Account, go into the Bank and select Deposit. Here you will find the CashtoCode option. The amount you can deposit needs to be between 25 - 500 A$. The possible denominations are $25, $50, $100, $150, $200, $400.
If CashtoCode eVoucher is available in your country, you can simply receive your digital code 24/7 instantly via email. The voucher code will immediately appear on your screen and will be directly redeemable. It will also arrive in your email inbox, along with the receipt and redeem instructions.
You would need to enter your 20 character CashtoCode eVoucher code. I case you do not have a CashtoCode eVoucher, you can purchase your voucher via one of our official partner websites:
aaand thats it! Easy cheesy!
Why should you use this payment method?
SAFE 🔒
CashtoCode is very beneficial. The most common reason people would prefer using this payment method is safety. With CashtoCode, you do not need to use your credit card information on any website. You also don't need to have an e-wallet or anything of that kind. All you need to do is walk over to the nearest 'Cash to Code' merchant, and pay using cash, or purchase it online from one of our partner sites.
INSTANT 🔥
Another advantage of CashtoCode is that it's instant! As soon you enter the 20 character CashtoCode eVoucher code on Slots Capital, your cash will be there. It really takes no time at all from buying your voucher to loading your account. It's for sure one of the fastest deposit methods ever. Purchasing the eVoucher online, makes it truly the fastes option!
Easy ✔️
Building on from the previous benefit, CashtoCode also doesn't require you to use a bank or credit card while making deposits at Slots Capital. All you need is access to one of the authorised dealer sites that we mentioned previously AND a little bit of coin in your account. You can then buy a CashtoCode voucher and have it sent directly to your email of choice.Remembering pin codes, usernames, email logins and passwords is an absolute hassle. With CashtoCode, you don't need to worry about a new set of login details. Why? Because you don't even need to register an account!