Cinco de Mayo!
What is Cinco de Mayo and how we celebrate it?
Cinco de Mayo bonuses: 
CINCO 100- 100 Spins on Popping Pinata!
&
MAYO 300 -300% Bonus!
Available between May 5th-9th 2020!
Cinco de Mayo is not the independence of Mexico; it actually celebrates a battle that happened more than 160 years ago. It commemorates the Mexican army's victory over the French Empire at the Battle of Puebla in May 5, 1862. In 2020, Cinco de Mayo will be observed on a Tuesday in Mexico, the United States and in other parts of the world by thousands of people.
Even though Cinco de Mayo is originally a Mexican holiday, it is considered rather minor when compared to other holidays like their actual Independence Day, Christmas, Good Friday and the popular Day of the Dead. On the other hand, Americans celebrate this date as a commemoration of Mexican culture and their heritage, particularly in areas with a large Mexican American population.
The impact of Cinco de Mayo in popular culture has been huge, with tv shows, movies, songs and even video games and online slots featuring their own depictions of this holiday.

Some History
Cinco de Mayo commemorates an important battle: In 1861, Mexico was in a financial trouble and newly-elected president Benito Juárez was forced to default on debt payments to European countries in order to save its government and its people.
France, Britain and Spain immediately sent naval forces to the city of Veracruz, and while the latter 2 came to a truce with Mexico, it was Napoleon III who commanded his army to extend the French Empire in Mexican territory.
Then, on May 5 around 6,000 French soldiers marched to storm the town of Puebla into submission. President Juárez then rounded up a force of 2,000 men and set them into battle, When the French lost around 500 soldiers, compared to less than 100 Mexican troops, they finally retreated.
This victorious battle represented a great symbolic victory for the Mexican people, and the French forces finally withdrew from their country in 1867.
When did it start?
Celebrations for Cinco de Mayo began in California, where they have been observed annually ever since 1863. It wasn't until more than 100 years later, in the 1980's, that the holiday gained nationwide popularity - thanks in part to advertising campaigns for beer! Actually, beer sales on Cinco de Mayo are as big as with the Super Bowl!
In Mexico, Cinco de Mayo celebrated mainly in Puebla, where the Mexican's unlikely victory occurred, and in other main cities of the country. Parades, speeches and reenactments of the 1862 battle are seen all around the city. Today, for many Cinco de Mayo is a pretty insignificant holiday and is nowhere near as important to Mexicans as Independence Day.
In the end, the battle of 1862 not only impacted Mexico and its residents, but also had a role in the fate of the Union - since the French were supporting the Confederate army at the same time when the America's civil war was happening - meaning both Mexicans and the Union had a common enemy.
The eventual victory by the Mexican army slowed down French support of the Confederates in the North, which helped the Union establish themselves. This explains how Mexicans felt even more connected in the southern states of the country.
More popular in the US than in Mexico?
In the mid-20th century, Cinco de Mayo became a way to encourage pride amongst Mexican immigrants and preserve their heritage. Today the holiday is still a celebration of Mexican culture in areas with bigger Mexican-American population, and fueled by an explicit link that it has with the promotion of Mexican beer and other alcoholic beverages.
Today, Cinco de Mayo sells more than $600 million worth of beer - more beer than is sold for St. Patrick's Day
People all around the country mark the occasion with parades, parties, mariachi music, and traditional foods like tacos, guacamole and burritos. Some of the festivals with most attendance in the US are held in Los Angeles, Chicago, Houston, Denver, Portland and St. Paul.
As the holiday grew in popularity, other meanings were attached to it from American citizens - beyond having another excuse to party - thanks to the time of year in which the holiday falls. Early May also represents the true start of spring in most American states, and with Cinco de Mayo many Americans find the perfect reason to go outside celebrating a holiday in the sunshine with Mexican cuisine, warm weather and lots of different Mexican brands of beer.

Cinco de Mayo Activities
In the US, many people display Cinco de Mayo banners while school districts hold special events to educate students about the historical and cultural significance of the holiday. Other special events aim to highlight Mexican culture, with traditional music and regional dancing. The colors of the Mexican flag often appear in costumes and decorations, and many people decorate their homes with balloons, streamers and flowers.
Other celebrations in North America include an annual skydiving event in Vancouver, Canada, and in the UK, New Zealand and Australia annual Mexican festivals are also held to commemorate the occasion.
In Mexico, Cinco de Mayo is not observed as a national holiday, however all public schools remain closed across the country on that day. In Puebla, where it's most celebrated, parades, meals and reenactments of the battle are held across the city.
Many others enjoy staying at home and play online slots with a Cinco de Mayo theme. Such is the case of the new slot 'Popping Piñatas', where players can enjoy Mexican traditions right from the comfort of their home.

Cinco de Mayo traditional food
Cinco de Mayo is not only tacos and margaritas. The traditional food of Mexico is named to the UNESCO list of Intangible Cultural Heritage, an honor only given to one other cuisine: French. While we might immediately picture nachos with jalapeños and refried beans when we think of the holiday.
Some of the most popular dishes from Puebla are way different than what we are used to, and include:
Mole Poblano: Mole is a thick and dark sauce made from ground up ingredients usually served over meat.
Chalupas: This famous Poblano food are fried tortillas topped with salsa, shredded meat, cheese and guacamole.
Chiles en Nogada: This iconic dish is made up of the colors of the Mexican flag: green, white and red. Chiles en Nogada are stuffed peppers dipped in egg batter and fried, topped with walnut sauce.
Perhaps it's time to give Taco Bell a rest this year and try out a traditional Mexican recipe at home or go to your local Mexican restaurant and try one of their iconic dishes by yourself!
Other celebrations in May around the world
Cinco de Mayo is not the only celebration in the world to take place in the month of May for many countries around the world. Some of the most popular ones include:
Mother's day: For many countries around the world like USA, Japan, Uruguay, Germany and Canada, mother's day is celebrated on the second Sunday of May every year. It honors the mother of the family, as well as motherhood and maternal bonds. Other dates for when it's celebrated include August 15 (Costa Rica), the third Sunday of October (Argentina) and in the fourth Sunday in Lent (UK, Nigeria and others).
Memorial Day: This US holiday honors and remembers the soldiers and military personnel that died while serving the United States Armed Forces. Memorial Day is a federal holiday in the US, and many families decorate their homes and cemeteries with the flag of the United States.
May Day: May Day is an ancient festival of Spring celebrated on May 1, where activities like dances, singing, and cake eating take place. Perhaps the most known modern May Day era traditions include dancing around the maypole, which is a tall wooden pole where people dance around. Maypole traditions vary from country to country like Malta, Germany, Sweden, Belgium, Britain, and even the US and Canada.
Slots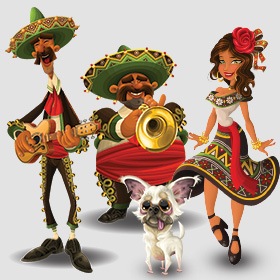 'Popping Piñatas' is set to become a tradition to play at Cinco de Mayo for the coming years. This amazing online slot from Rival Powered revolves around a Mexican party and featuring traditional mariachi singers and a beautiful local dancer who decorate the reels. This slot also includes fun symbols including 'Pequeño', a cute chihuahua, piñatas, skulls, peppers, trumpets and -can't miss- tequila.
This popular new slot offers 50 active lines on its 5x3 reels. Depending on the mode bettors are playing in, Day or Night, they will find different sets of wild symbols. Day symbols pay up to 1,000x and include the Donkey Pinata symbol and a Pinata Popping bonus game. Night symbols pay up to 750x and feature the Perdido sign, with the Find Pequeno bonus in its reels.
Popping Piñatas is one of the best Rival Powered games in terms of graphics and 3D design. Their use of state-of-the-art technology allow bettors to enjoy a 3D rendered title with great colors, design, plot, animation and sound and music effects. There's really no excuse not to celebrate Cinco de Mayo in style with big real cash winnings and a relaxing time at home or wherever you are.
Even though Cinco de Mayo has been misinterpreted by many people and sometimes lost its real meaning due to advertising and false beliefs, it remains an important historic milestone for the Mexican people. It is also an excellent opportunity for the rest of the world to learn a little bit more about Mexico's culture. 
Time to start to play!